Shop the Look: The Crazy-Yet-Wearable Outfits From NYFW Fall 2013
Citrus brights! Grunge redux! Head-to-toe red!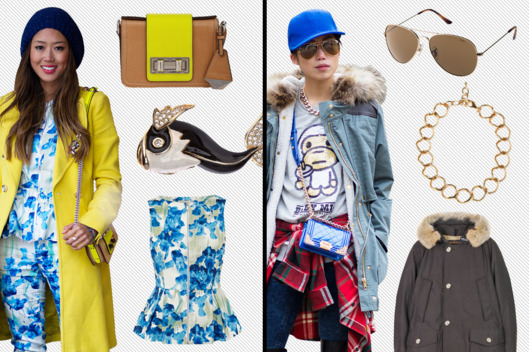 To effectively attract the attention of a photographer, a good street-style subject knows to toe the line between crazy and wearable. So while head-to-toe red will work, a giant tutu paired with black ten-inch platforms will not (guy outside of Marc by Marc Jacobs, we're looking at you). This week may seem like it's only about who can show off the most designer goods in one look, but it's also filled with inspirational outfits and styling tricks worth testing out at home. Take, for example, Oxana Ong's grunge-redux outfit consisting of a sweatshirt layered under a parka and finished off with a casually tied flannel — you're likely to have all of these pieces in your closet already. Or look to Aimee Song for cues on how to wear floral prints even when the weather outside is dreary and grey. Click ahead to see how to recreate these looks and more, without having to dish out for that limited-edition tri-color Hermès Kelly.
BEGIN SLIDESHOW