Street Style: Blues Travelers Check Into Fashion Week
A cobalt blue sweater, an azure maxi dress, and <em>jeans</em>.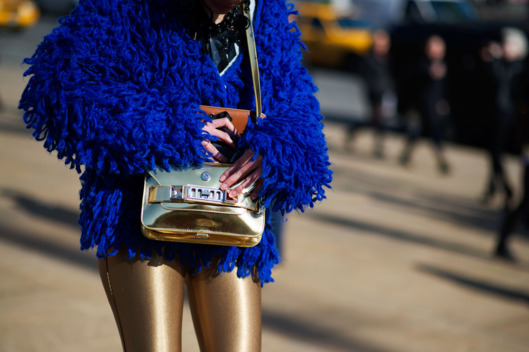 Outside yesterday's shows, bleu was the color du jour. Nasiba Adilova picked a navy, Yves Klein blue, and white striped dress; Lily Kwong wore an azure sidewalk-grazing number with a slit up to there; New York's Rebecca Ramsey kept warm in a cobalt blue sweater with orange sequins; Susie Bubble had on a slouchy hat and patterned coat; Ang Burapa looked like a ball of the bluest blue yarn. But model Ji Hye Park was most impressive in a printed top, midnight blue sunglasses, and jeans (comfort!). Could the ubiquitous hue mean showgoers are sad New York Fashion Week is almost over? Or are they trying to zen out in the calming shade before London begins? Click through our slideshow to form your own conclusions.
BEGIN SLIDESHOW