Street Style: Milan Fashion Week Bundles Up
Babushkas, draped jackets, and Keith Haring sneakers.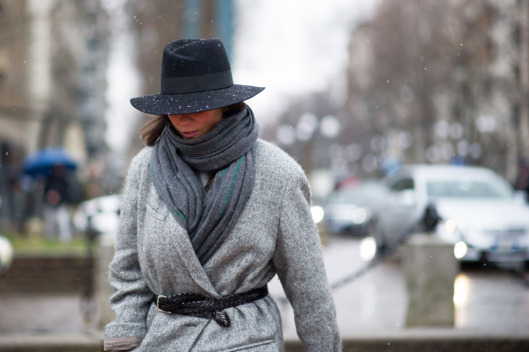 Thanks to Nemo and the post-winter-storm slush, it seems showgoers revised their packing lists and maybe checked the weather before taking off for Milan — where it's been precipitating. For days. Shala Monroque chose a hat with animal ears, Emmanuelle Alt wore a chapeau (again!), and Giovanna Battaglia tied on a babushka. But the best headwear belonged to blogger Chiara Totire: a navy ski cap with a veil. (Bonus points for having her jacket draped over her shoulders just so.) André Leon Talley and filmmaker Luca Finotti represented the seasonally appropriate man, opting for a plush Louis Vuitton scarf and Keith Haring–inspired sneakers, respectively. Click through our slideshow to see these looks and more.
BEGIN SLIDESHOW