Street Style: To Combat Slush, Accessorize
Ski goggles, Nike Dunks, and an ironic handbag.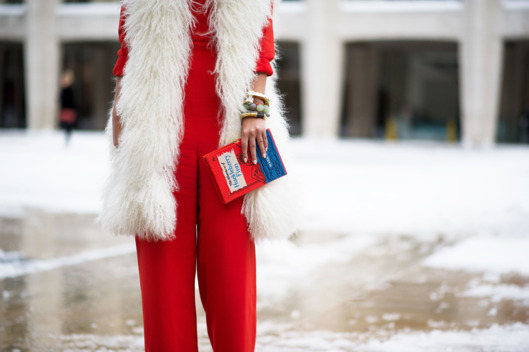 Following Friday's winter storm, Fashion Week was met with a challenge: How to bait street-style photographers and wade through inches of slush. Some showgoers went all-out — like blogger Shea Marie in hot-pink separates and a white coat asking to be splashed by curbside goo — but most livened up their outfits with winter-appropriate accessories. Model Hanne Gaby Odiele rode around town in ski goggles, CR Fashion Book's Shiona Turini wore a leopard-print baseball cap, and Nikki Cohen paired paisley Nike Dunk Sky-Highs with floral pants. But the woman in slide 26 won Saturday's stakes: Perched on high-heeled boots, she traversed Lincoln Center carrying a purse that read Anything can happen in New York. There's an ironic tote for every occasion! See these looks and more in our slideshow.
BEGIN SLIDESHOW