Zoom on This: Details at Dolce, Armani, and Marni
Jeweled lace at Dolce, neoprene-backed velvet at Armani, and glossy beaver fur at Marni.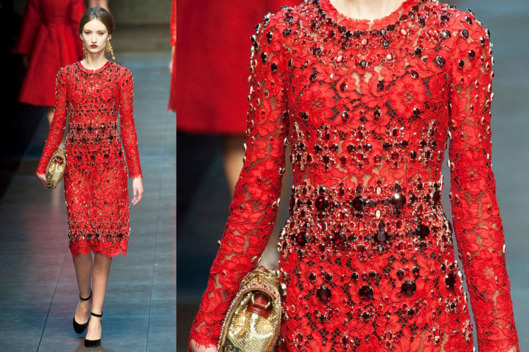 At Emporio Armani, the velvet trend was reconfirmed in the final looks of the Milan runway, but it was the last five looks especially that paired velvet backed with neoprene for voluminous shapes inspired by Poiret and Frank Gehry's mind-bending architecture. Over at Dolce & Gabbana, red was a focus for the Byzantine beauties who strutted the runway with dangling chandelier earrings. We particularly loved this blood-red lace embellished with red Swarovski crystals. The fur trend was spotted once again at Marni, where the collection opened and closed with the stuff: The last look featured here was a glossy beaver cape that looked extra slick and shiny over the modest silk wool top and midi skirt, also lined with beaver fur.
Click below to zoom in on these details and more.
BEGIN SLIDESHOW