Zoom on This: Rodarte, Oscar de la Renta, Vera Wang, and More
Up close and personal with a trompe l'oeil tattoo, a <em>faux-</em>bolero, and some cable-knit leather from yesterday's runways.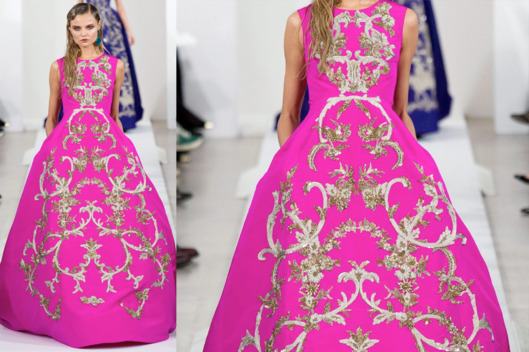 Yesterday's runway collections were all about the details. At Rodarte, a black silk charmeuse and tulle jumpsuit wove through the neon sign obstacle course and then — BAM — the model flashed a glittering, trompe l'oeil tattoo of Black Swan wings on an inset. Oscar de la Renta's final look stunned us with intricate baroque beading against fuchsia taffeta; Vera Wang's wonky cabochons contrasted her fur capes and leather opera gloves; and Jenny Packham engineered a faux-bolero with a plethora of Swarovski crystals and a nude panel from neck to navel. Click through our zooms for a closer look at these wild looks and more.
BEGIN SLIDESHOW