10 Ways to Wear Fall's Plaids Now
Getting ahead on the trend? Check!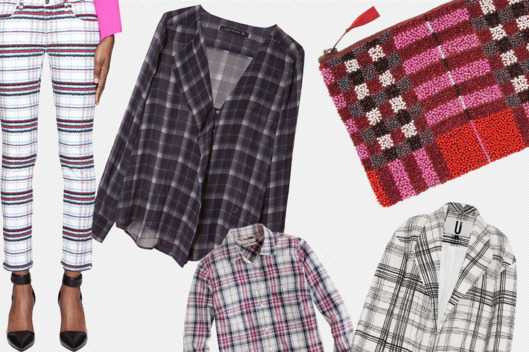 While plaid has always been popular with grunge revelers, preppy types, and kilted ilk, its currently enjoying a big boom in fashion. Dries Van Noten's spring collection — glorious plaid meets flowing florals — surely has ignited a frenzy (try finding it for sale online; its selling out like crazy). And recent Paris fall collections from Junya Watanabe, Stella McCartney, Céline, and Givenchy are all sprinkled with tartans (Givenchy's Riccardo Tisci even took his bow wearing a flannel). But why now? Are we just feeling nostalgic? Perhaps. The New Museum's 1993-themed exhibit, "NYC 1993: Experimental Jet Set, Trash and No Star" opened last month, cementing the grungy time as a pivotal era of culture. And as what goes around comes back around, plaid is quickly delivering to retailers. From a traditional button-down from J.Crew, to See by Chloé's printed jean, and even cool checked socks from Tabio, here are ten ways to stock up on plaid now (if you don't already own enough) and get ahead on a big trend.
Plaid shirt backgrounds provided by Dries Van Noten.
BEGIN SLIDESHOW