That Giant Globe, Jessica Chastain, and Other Chanel Highlights
And Baptiste.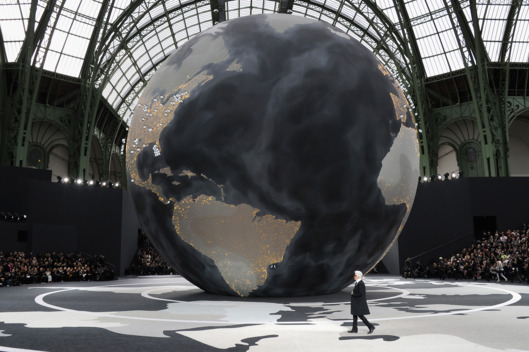 For today's Chanel show, Karl Lagerfeld plonked an enormous globe, complete with topographical details, in the middle of the Grand Palais. Orbiting said Earth were Karl's besties Inès de la Fressange and Bernadette Chirac, along with celebrities like Jessica Chastain and Milla Jovovich, all decked out in the requisite spring Chanel outfits. The collection itself brought chain-studded boots, spherical purses, fuzzy pink hats, and a delightful visit from Baptiste Giabiconi, bless him. See highlights in our slideshow.
See the complete Chanel fall 2013 collection here.
BEGIN SLIDESHOW