Photos: Pucci Finally Gets the Beautiful Book Treatment
Vanessa Friedman's latest book places the "prince of prints" on a vibrant pedestal.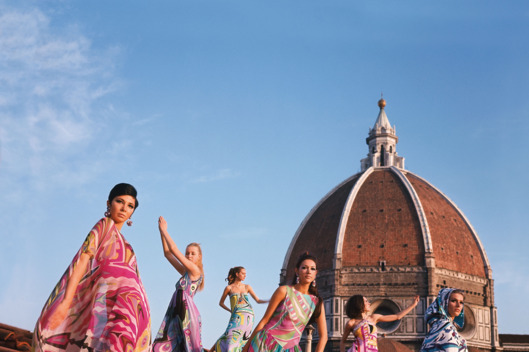 "Many a time I have heard a woman say: 'When I met my husband I was wearing Pucci,' or, 'When I left my husband I was wearing my favourite Pucci,'" Laudomia Pucci, the brand-founder's daughter and current vice-president, remembers in a forward to Pucci, a book published by TASCHEN that will be released early next month. "It's a generational story that is continuing to evolve as the newest groups of young women discover Pucci for themselves." Housed in a square, fabric-bound cover bearing one of four of the brand's eye-catching patterns (with the name Emilio scrawled on every one), Vanessa Friedman's latest 416-page tome offers a peek behind the hypnotic, rainbow-colored prints that have become synonymous with the Pucci name.
The book not only offers a wide range of voices from the Pucci dynasty, but Friedman, the fashion editor of the Financial Times, also draws on her own steeped expertise in the industry to trace the family-run company's achievements. She documents how the small Italian shop that specialized in lightweight separates blossomed into an empire of its own (focusing specifically on Emilio's reign), spawning over 50 boutiques worldwide and infiltrating — and then injecting — athleticwear, accessories, and interior design with bursts of color and pop-art prints. Also included are hundreds of photos, drawings, scarf prints, and candid family shots from the Emilio Pucci Foundation archive, plus full-page spreads of pop-culture icons draped in the famous textures. The beehived late singer Amy Winehouse wears a "Ceramiche" motif sequined mini dress, Marilyn Monroe reclines in a patterned silk jersey, and even a plastic Barbie figurine is snapped in Los Angeles dressed in her own Pucci rig. Click through the slideshow to see a history of the iconic prints in action.
BEGIN SLIDESHOW