Selena Gomez's Style: Disney Princess vs. Spring Breaker
We're not in Waverly Place anymore.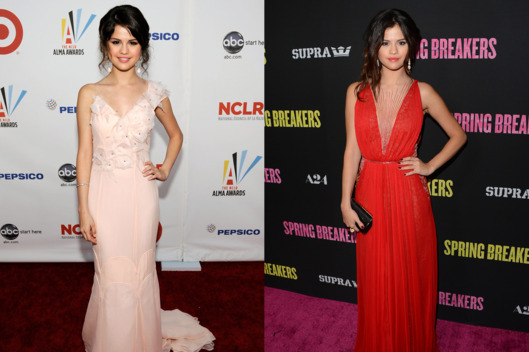 In the lead-up to the release of Spring Breakers, which came out nationwide this weekend, Selena Gomez made the press rounds in getups that are decidedly more "I Am Woman" than we're used to seeing on her. While this transformation can probably be attributed to the fact that she is, of course, growing up, she seems to be purposely trying to shed some of her old Disney-princess, Justin Bieber–girlfriend persona. Besides tiny crop tops and enough sideboob to get her excommunicated from Mickey Mouse's weekly game night, Selena's wearing labels. She's recently chosen red-carpet outfits from Reem Acra, Pucci, and Dolce & Gabbana as if to send the message that she is a mature actress who can play a mature role and she's going to wear real, mature-actress, expensive clothes. To get the full effect, take a look back at what Selena wore in the Wizards of Waverly Place first-fame era versus the looks she's chosen during the promotion of Spring Breakers. The magic of Disney, indeed.
BEGIN SLIDESHOW