Street Style: By the End, It's All About the Accessories
Structured mini handbags, a cartoon fox (<em>not fur</em>) scarf, and a turquoise neck pillow stole the sidewalk show.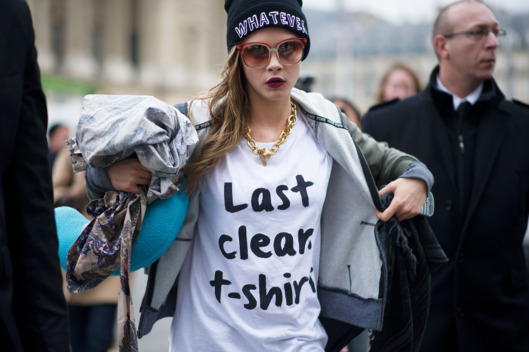 Au revoir, Paris. For a week, the Cut's YoungJun Koo captured the city's sidewalks covered in a rainbow of Muppet coats, dazzling prints, stunning colors, and of course, classic black-and-white ensembles. But for his final batch, Koo zoomed in on the accessories: from a chic black-and-crème mini handbag toted around by Giovanna Battaglia to a crimson red lip clutch that matched Oksana On's monochrome outfit. And if it's not clear from the bright colors and floral prints mixed in, everyone was dreaming of spring and, probably, ready to leave fashion month behind. Especially Cara Delevingne, who, with sunglasses and "WHATEVER" beanie firmly on and a turquoise neck pillow in tow, looked more than happy to be headed home to do some laundry.
BEGIN SLIDESHOW