Street Style: Paris Narrows In on Prints and Accessories
Fearless print-mixing, geometric cube heels, and <em>even</em> a charming fruit beanie.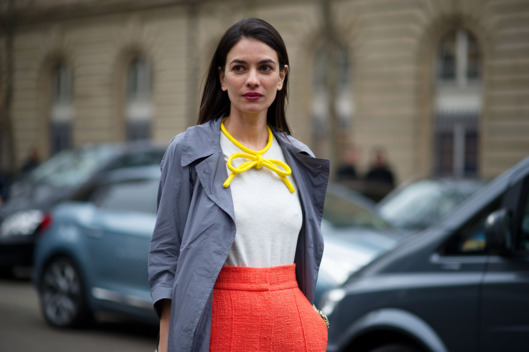 It's officially the final week of all fall 2013 fashion weeks, which means that we could only expect the style crowd to rain down a full-blown storm of chicness in Paris. And according to the Cut's hawk-eyed photographer, YoungJun Koo, the first few days in "the Capital of Style" for the fashion set meant everything from clunky cube-heeled shoes; lilac hair (thanks, Kelly Osbourne); a smattering of vibrant, printed coats; and pops of the ever-popular Yves Klein blue — which even hung from the back of Marijera Hamasaki's coat as a lock of dyed hair. Black silhouettes were also popular, so long as the accessories drew in the appropriate amount of attention. Click through Koo's photos to see all that and more from the first few days of Paris.
BEGIN SLIDESHOW