GIF Lesson: How to Apply Liner on Asian Eyes
Useful advice for women who have almond-shaped eyes.
My everyday makeup routine is a pared-down process in which I focus on my complexion (tinted moisturizer, blush) and brows (pencil, gel). I rarely pay attention to my eyes; when I do, it's just a swipe of mascara. In a perfect world, I would be skilled in the art of eye-shadow trickery and would take the time to play up my ocular region. But my eyes — almond shaped by way of my Korean heritage — have somewhat "flat" lids (I don't have an obvious socket) and lack a crease (mine is more like a skin fold). They don't provide an obvious surface for eye makeup, and most how-to tutorials reference sockets and creases as product-placement markers.
So I enlisted Japanese makeup artist Munemi Imai, whose clients include Solange Knowles, Tao Okamoto, and a bevy of Victoria's Secret models, to provide insight into how to properly apply makeup to eyes like mine. First up, we went for a liquid-liner look. Imai opted for Tarte's MultiplEYE liquid liner for its "long handle, which provides more control," but you can use whichever liner you like. And be sure to check back in the upcoming weeks for more eye-makeup tutorials by Imai.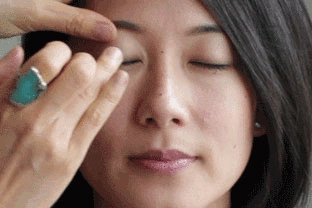 Step 1: Apply a primer to the lid, like Urban Decay's Eyeshadow Primer Potion. This will help keep the liner in place. 
Step 2: Starting from the outside corner of your eye, draw a line toward the center of your lash line. Don't worry about creating a perfect line; you can correct it later.
Step 3: Fill in the rest of the lash line from the inner corner, taking care to really get in between the lash hairs.
Step 4: Use an angled eyeliner brush to gently extend the line past the outer corner of your eye. This will create the "flick." Tip: Look in the mirror. If your lid falls over the line, essentially hiding what you've just drawn, add width so that the liner is visible underneath the fold.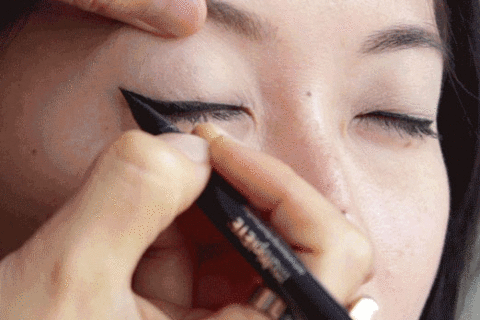 Step 5: Draw over the flick extension with your liner. Tip: Extend the cat-eye flick if you want (the longer it is, the more dramatic the effect). But, if you happen to have an eyelid fold that hides the liquid liner, the extension can become too much of a focal point. Use a thin Q-tip to clean up any excess.