Ab Queen Gwen Stefani Turns 44 Today
Rock steady, Gwen, rock steady.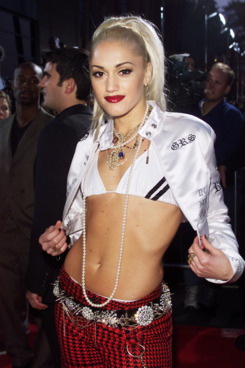 Today, No Doubt's front woman, Gwen Stefani, celebrates her 44th birthday looking just as good as she did twenty years ago. The mother of two — with a rumored third on the way — seems like one of the coolest working moms out there, the type who would spend the day making sweet music and designing new L.A.M.B. crop tops, then come home to indulge in kale chips and birthday cake with her family. While she opts for a more polished style today, we're still partial to the singer's early wardrobe filled with track pants, bikini tops, and lots of netting. To celebrate her birthday, embrace all that nostalgia and take a look back at 24 years' worth of Gwen Stefani's most memorable fashion moments.