Lena Dunham, Milking a Cow on the Streets of NYC
Someone was playing an inventive round of Mad Libs!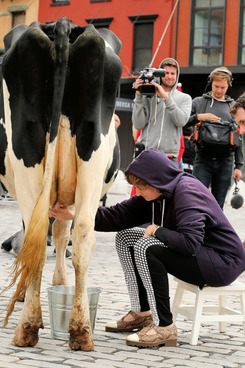 Someone played Mad Libs with the world yesterday, and Lena Dunham ended up sitting on a small white stool in the meatpacking district, tugging on some cow udders, in a pair of checkered leggings, a purple hoodie, and crocodile Mary Janes. Dunham was reportedly filming a scene for Billy Eichner's excellent Funny or Die show.