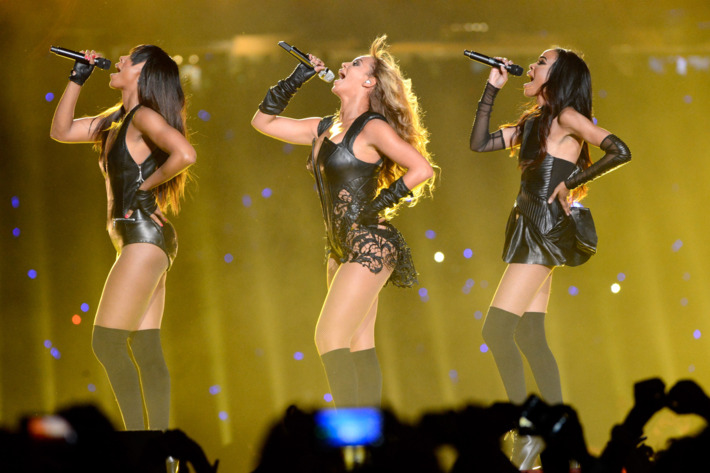 Everyone needs a feminist playlist — for the good days and the bad, for tuning out the patriarchy, for a reminder from Queen Bey that, Girls, We Run This. So at the Billboard Women in Music Luncheon and The Color Purple's Broadway opening last week, the Cut asked 12 celebrities for their favorite female-power anthems. From Ciara to Lady Gaga, each of them chose empowering songs by other women, including a lot of Destiny's Child, plus some tracks they've sung themselves for that exact purpose. "I think we have not enough anthems," Gloria Steinem said at The Color Purple. "But I don't want to choose among them." Read on for selections from Fifth Harmony, Demi Lovato, Martina McBride, and more — and save the Spotify playlist below for whenever you need a pick-me-up.
Fifth Harmony: "Can't Hold Us Down" by Christina Aguilera and Lil Kim
"Everyone sweeps it under the rug, but I think it is so incredible. The first line is 'What? Am I not supposed to have an opinion, should I be quiet just because I'm a woman?' Literally she's just in your face about it and it's so amazing. I want to cover it so bad."
Tamron Hall: "Survivor" by Destiny's Child
"For obvious reasons."
Loretta Lynn: "You Ain't Woman Enough to Take My Man"
No statement necessary — it's her own song.
Ciara: '"One Woman Army"
"It's for the ladies, and it's one of my favorite songs." [What about a song that's not yours?] "I'd say Destiny's Child, 'Survivor' and 'Independent Women.'"
Kelsea Ballerini: "Stronger" by Kelly Clarkson
"I love her and I like when songs sound like the lyric – you listen to that song and even if you didn't know what it was saying, you're like, 'Man, I feel good about myself right now.' So, it's that kind of song."
Yael Stone: "Après Moi" by Regina Spektor
"It's half in Russian, and it's so badass. But anything that she sings essentially has a kind of depth of soul that gets me going."
Brittany Howard: "She" by Laura Mvula
"In the song it repeats this mantra that's just like: 'She don't stop.' And even if you're having a bad day it's like, you know what? I have no other options – I can't stop anything that's happening. It's just nice hearing that, affirming that anything you're doing – walking through the airport, sitting in traffic – you can do it!"
Demi Lovato: "Confident"
"It's my own song, but I'm really proud of it. It's about taking charge."
Hoda Kotb: "I Will Survive" by Gloria Gaynor
"It's sort of every single category to me no matter what junk you're going through in your life, whether it's a bad day at work, a crummy breakup, you're in the park running and you can't finish – all of those things fit under the big umbrella of 'I Will Survive.'"
Martina McBride: "This One's for the Girls"
"It covers the whole spectrum of life. It covers the challenges you face when you're in high school, the challenges you face when you're in your early 20s and you're just trying to figure out what you're doing with your life, and then the challenge we face when we're much older, which is much different than the challenges you face when you're coming up. So, that's just an empowering song for me."
Tori Kelly: Beyoncé; "Worth It" by Fifth Harmony
"Anything by Beyoncé is always a winner, I think. I would say Fifth Harmony, too. 'Worth It' is a good anthem, too. It's just a jam, just a jam."
Lady Gaga: "What's Up?" by 4 Non Blondes
"Need I say more?"
*These interviews have been edited and condensed.