21 Couples More Beliebable Than Justin Bieber and Kourtney Kardashian
They are maybe dating?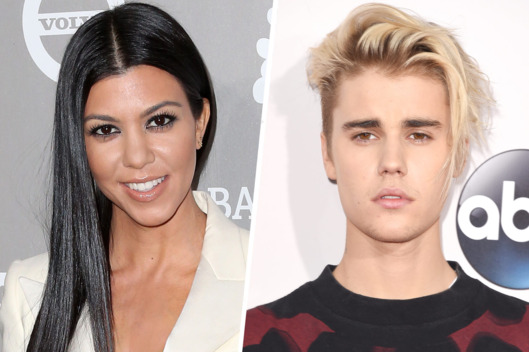 The latest celebrity-romance rumor is one that will have us doing the thinking-face emoji for many days. Is it possible that the Bieber PR-tists and Kris Jenner were savvy enough to smash Kourtney Kardashian and Justin Bieber into a sexual relationship? Signs point to "sure, why not?" But given Bieber's proclivity for dirt-bag behavior, and Kourtney's least-interesting-of-the-bunch demeanor, the whole thing feels like either a strong troll, a weird PR stunt, or something made-up entirely. But the unknown is what keeps our hearts beating every day, so let's go with it. Bieber does give off strong future-absent-stepdad vibes, after all.
Still, it must be said that there are surely more beliebable relationships than Bieber and Kourtney. If we are to believe that the eldest Kardash is bonking a confused sadboy with a collection of Lamborghinis, then who's to say that these matchups can't happen?
1. Me and Justin Bieber
2. You and Justin Bieber
3. Any one of my cousins and Justin Bieber
4. A starfish and a puma
5. Gigi Hadid and Zayn Malik
6. Gigi Hadid and any mortal man
7. Taylor Swift and Gigi Hadid
8. My mom and Justin Bieber
9. Groot and Joy from Inside Out
10. Serena Williams and the "Bazinga" character from The Big Bang Theory
11. Santa Claus and Furiosa from Mad Max
12. Kourtney Kardashian and Vin Diesel
13. Actually, I think No. 12 would make a good couple
14. Rihanna's new record and Kanye West's new record releasing on the same day
15. Jennifer Lawrence and Tony Bennett
16. Any character from Star War with any character from Star Trek
17. Jenny Lewis and Bill Murray
18. The Rihanna album and the Kanye album releasing on the same day, but then also Bruno Mars puts out a new banger
19. Michael B. Jordan mistaking me for his waitress at a restaurant
20. Whatever the opposite of Joe Manganiello and Sofia Vergara is
21. A disgusting rash all over Justin Bieber's neck