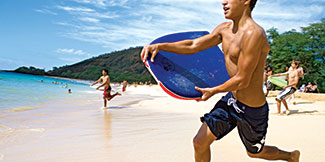 Locals from Coromandel to Curaçao share their snorkeling, sunbathing, and iguana-stewing tips. It's the Urbanist, but with more sand.
Plan Your Trip
New Zealand: Coromandel Peninsula

Natural Jacuzzis, human hamster wheels, smoked eel.
Mexico: Puerto Escondido

Moonlit turtle marches, mountain mezcal, venom therapy.

Tri-State Area
East
West
South
Midwest
International
The Travel Planner
Forget Paris ... and London, and Berlin, and Beijing

Head to these lesser-known cities for equally fine wine, just-as-ancient architecture, and even-more-secret warehouse parties.
NORTHEAST U.S.
Beacon is host to a slew of new independent galleries, art cafés, and design stores.

SEE ALSO:
Skip lobster in favor of the town's vineyards, farm markets, and cooking schools.

SEE ALSO:
The revitalized waterfront is packed with luxury hotels and great restaurants.

SEE ALSO:
A crush of newly renovated hotels, boutiques, and off-the-beaten-path seafood spots are revitalizing the classic beach town.

SEE ALSO: