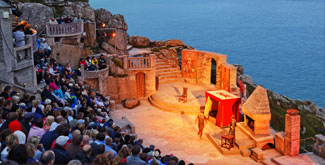 By Rebecca Dalzell
The rugged southern tip of England is a creative hive, with world-class installations, design-minded new hotels, and imaginative restaurants.
More English Getaways
Find a Modern Spin on History in Oxford

By Nicholas DeRenzo

Everything old is new again in the City of Dreaming Spires—from just-opened museums to a spate of boutique hotels built in some of the city's most historic spots.
Dive Into the Craft Beer Scene in Manchester, England

By Nicholas DeRenzo

With a host of new breweries and craft ale houses—plus a cosmopolitan mix of design hotels, hip eateries, and contemporary galleries—Britain's second city is on the rise.


Find Your Perfect Getaway by Region
Tri-State Area
East
West
South
Midwest
International
The Travel Planner
Forget Paris ... and London, and Berlin, and Beijing

Head to these lesser-known cities for equally fine wine, just-as-ancient architecture, and even-more-secret warehouse parties.
NORTHEAST U.S.
Beacon is host to a slew of new independent galleries, art cafés, and design stores.

SEE ALSO:
Skip lobster in favor of the town's vineyards, farm markets, and cooking schools.

SEE ALSO:
The revitalized waterfront is packed with luxury hotels and great restaurants.

SEE ALSO:
A crush of newly renovated hotels, boutiques, and off-the-beaten-path seafood spots are revitalizing the classic beach town.

SEE ALSO: