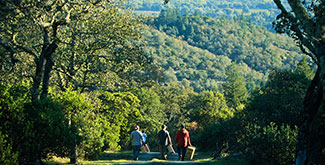 By Blane Bachelor
Best known for world-class wines and dining, Napa Valley is also drawing adventure-minded travelers with biking, hiking, and other adrenaline-pumping ways to explore the vineyard-filled landscape.
More Getaways for Wine-Lovers
Shack Up in the North Fork

By Carrie Nieman Culpepper

The calmer half of Long Island's East End offers an expanding roster of wineries, restaurants, and small hotels that make for an easy romantic getaway.
Sip Cava in Catalonia

By AnneLise Sorensen

Explore Spain's stunning wine country, where a new wave of small-scale producers is elevating cava's standing above its humble reputation.

Tri-State Area
East
West
South
Midwest
International
The Travel Planner
Forget Paris ... and London, and Berlin, and Beijing

Head to these lesser-known cities for equally fine wine, just-as-ancient architecture, and even-more-secret warehouse parties.
NORTHEAST U.S.
Beacon is host to a slew of new independent galleries, art cafés, and design stores.

SEE ALSO:
Skip lobster in favor of the town's vineyards, farm markets, and cooking schools.

SEE ALSO:
The revitalized waterfront is packed with luxury hotels and great restaurants.

SEE ALSO:
A crush of newly renovated hotels, boutiques, and off-the-beaten-path seafood spots are revitalizing the classic beach town.

SEE ALSO: