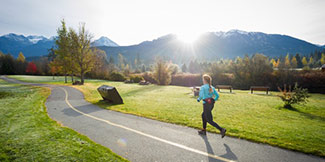 By Blane Bachelor
Long known as a powder junkie's utopia, the town's gorgeous terrain—not to mention a buzzing culinary scene and more wallet-friendly prices—make it well worth an off-season visit.
More Canadian Getaways
Break a Sweat in Québec City

By Blane Bachelor

Known for its stately European charm and rich history, Canada's oldest city turns into a sporty traveler's paradise in the winter.
Explore Canada's Wine Country

By David Sax

Skip the kitsch by the falls and head instead to Niagara-on-the-Lake, where old-world charms meet pretty bike paths and a burgeoning wine scene.

Tri-State Area
East
West
South
Midwest
International
The Travel Planner
Forget Paris ... and London, and Berlin, and Beijing

Head to these lesser-known cities for equally fine wine, just-as-ancient architecture, and even-more-secret warehouse parties.
NORTHEAST U.S.
Beacon is host to a slew of new independent galleries, art cafés, and design stores.

SEE ALSO:
Skip lobster in favor of the town's vineyards, farm markets, and cooking schools.

SEE ALSO:
The revitalized waterfront is packed with luxury hotels and great restaurants.

SEE ALSO:
A crush of newly renovated hotels, boutiques, and off-the-beaten-path seafood spots are revitalizing the classic beach town.

SEE ALSO: