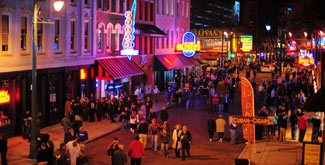 By Edna Ishayik
With a cluster of new galleries, plans for a behemoth art space, and street murals galore, the Memphis art scene is having a moment.
More Southern Getaways
Go Beyond Country in Nashville

By Elaine Glusac

Modern speakeasies, new record shops, and local indie bands offer an alternative to the Opry.
Ride the Waves in Charleston

By Edna Ishayik

South Carolina's coastal city offers a growing surf scene and a host of other beachy activities.

Tri-State Area
East
West
South
Midwest
International
The Travel Planner
Forget Paris ... and London, and Berlin, and Beijing

Head to these lesser-known cities for equally fine wine, just-as-ancient architecture, and even-more-secret warehouse parties.
NORTHEAST U.S.
Beacon is host to a slew of new independent galleries, art cafés, and design stores.

SEE ALSO:
Skip lobster in favor of the town's vineyards, farm markets, and cooking schools.

SEE ALSO:
The revitalized waterfront is packed with luxury hotels and great restaurants.

SEE ALSO:
A crush of newly renovated hotels, boutiques, and off-the-beaten-path seafood spots are revitalizing the classic beach town.

SEE ALSO: