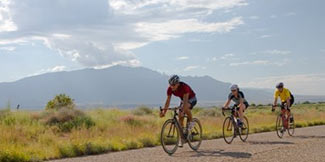 By Jenny Miller
With miles of trails, food-focused cycling tours, and breweries and wineries accessible by bike, the best way to explore New Mexico's biggest city is on two wheels.
More Southwestern Getaways
Find Your Inner Film Buff in Marfa

By Jenny Miller

The tiny Far West Texas town is best known for its visual arts scene, but movie obsessives will find plenty to love: film festivals, famously cinematic desertscapes, and bona fide Hollywood history.
See the Contemporary Side of Santa Fe

By Jeff Koyen

It's still the capital of southwestern décor and turquoise jewelry, but a growing alternative art scene is giving the city a new layer of vibrancy.

Tri-State Area
East
West
South
Midwest
International
The Travel Planner
Forget Paris ... and London, and Berlin, and Beijing

Head to these lesser-known cities for equally fine wine, just-as-ancient architecture, and even-more-secret warehouse parties.
NORTHEAST U.S.
Beacon is host to a slew of new independent galleries, art cafés, and design stores.

SEE ALSO:
Skip lobster in favor of the town's vineyards, farm markets, and cooking schools.

SEE ALSO:
The revitalized waterfront is packed with luxury hotels and great restaurants.

SEE ALSO:
A crush of newly renovated hotels, boutiques, and off-the-beaten-path seafood spots are revitalizing the classic beach town.

SEE ALSO: