It's commonly understood that the best way to explore a new place is to go straight to the locals. For this, our annual spring-travel guide, we took that wisdom one step further, seeking out not just locals but local experts—those who are especially well versed in their cities' newest and most noteworthy scenes. For Lagos, a fashion designer walks us through the recent rush of concept shops. In suddenly delicious Santiago, a chef shows us all the inventive sea-urchin tarts and foraged-strawberry-infused cocktails to be had. And on the non-city front, we found a surfer from Oregon who'd gladly pick the swells of Cape Kiwanda over the California coast.
---
An Architect's Singapore
Army-base art centers and 55th-story infinity pools.
Soo K. Chan, founding principal and design director of SCDA Architects

"Design evolves so quickly in a small country like Singapore. It's more nimble, much more open to change and testing new ideas. Sustainable architecture plays a big role here; you can see it firsthand at Gardens by the Bay (18 Marina Gardens Dr.; 65-6420-6848), the park on Marina Bay that was built in 2012, which is much more technologically advanced than our traditional British-style gardens. The old army barracks at Dempsey Hill (8D Dempsey Rd. #03-01), a retrofitted military base, are also worth a visit. Locals come here for the furniture shops, like Timothy Oulton at Curio (14C Dempsey Rd.; 65-6479-7619), which stocks things like tables made from decommissioned Chinese fishing junks. About ten minutes south is Gillman Barracks (9 Lock Rd.), which opened a few years ago; it's an army base turned contemporary arts center with 17 galleries, including one from Hong Kong gallerist Pearl Lam. You can get a good sense of the scene at the National Design Centre (111 Middle Rd.; 65-6333-3737)—which I designed last year—in the Bras Basah Bugis arts district. The first-ever Singapore Design Week was held here last March. Your trip wouldn't be complete without experiencing Moshe Safdie's Marina Bay Sands (10 Bayfront Ave; 65-6688-8868), three 55-story towers overlooking Marina Bay, bridged together by a park in the sky and its famous infinity pool."
His Other Musts
Hotel
"The Fullerton Bay Hotel (from $381; fullertonbayhotel.com) in the central business district is a glass box on the bay. All rooms have floor-to-ceiling windows overlooking the water."
Restaurant
"True Blue Cuisine (49 Armenian St.; 65-6440-0449) serves Peranakan or Straits Chinese fare: a blend of Chinese food with spices and techniques from Indonesia. Order the ayam buah keluak, or chicken with nuts, and Peranakan pastries like pineapple tarts."
Clothing Boutique
"Next to the Raffles Hotel, Front Row (328 N. Bridge Rd.; 65-6224-5501) is a concept store that stocks local designers like Laark and international brands like Christophe Lemaire that are displayed alongside art installations of leaping deer."
Day Trip
"Drive nearly three hours north to Malacca, a Malaysian town that was colonized by the Portuguese, Dutch, and British. Head to Jonker Street, a closed-off road with food and trinket stands; grab some fried-egg ice cream to go."
Museum
"I prefer the Asian Civilisations Museum (1 Empress Palace; 65-6332-7798) to the National Museum. Located in a former civic colonial building, it details the history of Singapore's immigrants and pan-Asian art, from bronze Buddhist statues to Sumatran Batak wood carvings."

Back to Top
---
A Booze-Maker's Reykjavik
Circus beer bars and beetroot-infused bourbon.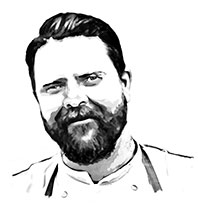 Gunnar Karl Gíslason, founder of Foss Distillery and owner-chef of Dill restaurant

"Now that we're recovering from the financial crisis, Reykjavik's bar scene is exploding with regional beer bars and new cocktail spots infusing local spirits with native herbs. Sæmundur í Sparifötunum (Skúlagata 28; 354-561-6060) is a brightly lit gastropub on the second floor of the Kex hostel, a converted biscuit factory. It's located near the waterfront and has a nice variation of local and imported beers, plus this weird-ass barber chair in one corner offering cuts every Thursday. A brand-new branch of Mikkeller & Friends (Hverfisgata 12; 354-437-0203), from Copenhagen microbrewer Mikkeller, has 20 rotating beers on tap and circus-themed décor. For cocktails, go inside the quirky Marina hotel to ­Slippbarinn (Mýrargata 2; 354-560-8080)—the mixologist there, Ásgeir Már Björnsson, takes cocktails to the extreme, like this one he calls Nobody Beats the Beets, where he mixes bourbon with beetroot juice plus blackberries and licorice. And for late-night drinking, especially if you don't want to go clubbing, the owners of Ölstofan (Vegamótastígur 4; 354-552-4687) brew their own beer, and they named one pilsner Brió, after a regular who would describe himself as 'brió' whenever he was feeling tipsy."
His Other Musts
Hotel
"The 101 Hotel (from $440; 101hotel.is; 354-580-0101) is right across the street from my restaurant, and I sometimes go there to relax and escape the chaos of the kitchen. I just love how they organize the books and papers, their beautiful lounge with a fireplace, and the down-to-earth food in the restaurant."
Local Restaurant
"I have a favorite restaurant for every part of the day. For breakfast I go to Grái Kötturinn (Hverfisgata 16A; 354-551-1544), a.k.a. the Gray Cat, for pancakes, bacon, coffee, and the all-around great atmosphere. For lunch, Matur og Drykkur (Grandagarður 2; 354-571-8877) creates new recipes from old recipes. The last time I was there, I had these cod heads that were marinated and glazed in fish stock and seaweed, then grilled. For dinner, I head to Snaps (Þórsgata 1; 354-511-6677), a friend's bistro, which is outside of the main streets so mostly just locals know about it."
Day Trip
"Head about 40 minutes from downtown to a freshwater lake within Thingvellir National Park, at Silfra, where you can snorkel or dive between the North American and Eurasian continental plates, plus spot strange geological formations and bright-green plants called troll hair. It's like another world there with crystal-clear cold waters where you can see for hundreds of feet. Most snorkel and diving tours (five to six hours; dive.is; $125 per person) will offer transportation."
Tourist Attraction
"Every tourist goes to the Blue Lagoon, but there are local pools all over town with hot volcanic water being pumped in. I like the ones in the countryside because they haven't been modernized, but Sundlaug Vesturbaejarlaug (Hofsvallagötu; 354-411-5150; $4.75) is still very old-school and was designed by a famous Icelandic architect. There are four outdoor Jacuzzis, plus separate saunas for men and women. Go in the morning during the week, when they are less crowded, and remember to use the outdoor lockers—nothing fresher than that."

Back to Top
---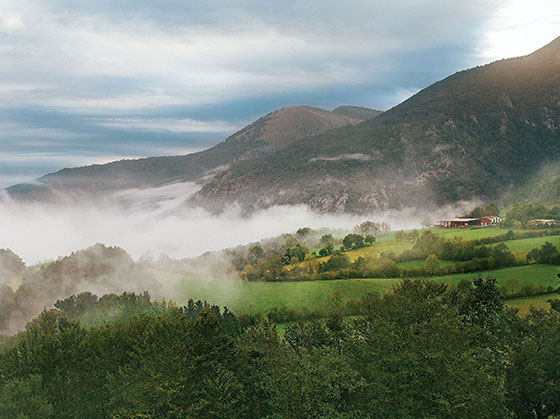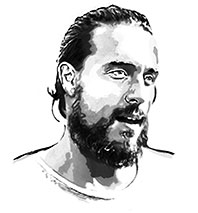 Aitor Molina, creative director of Pedalier magazine

"Biking in the Basque country has a long tradition—going back to my grandfather's day. But lately, we've seen the number of visiting cyclists grow so much that two local bike shops—Kili and Basque MTB—actually launched a tour company this year. For a challenging ride that's a favorite of the 20 or so Tour de France riders who now live around here, start in the middle of the Bay of La Concha in San Sebastián, and follow the left side of the coast to reach a steep hill called Igueldo—the last climb of the Clásica San Sebastián. We always pause along the way at places that are used to taking care of cyclists: Just past Igueldo, stop at Buenavista and get the Spanish ham croquettes and sip a glass of Rioja by the sea. From there, avoid the main roads—there are plenty of good gravel roads—and hug the coastline for about 15 miles. You'll pass the fishing village of Getaria, birthplace of Cristóbal Balenciaga, and Tramo Litoral Deba-Zumaia, a national park with moss-covered cliffs, before returning to the city. For a more leisurely ride, head right from the Bay of La Concha and bike about 15 miles to cross the border into France, pausing at Bar O'romeral for the best octopus on Earth. Cycle past the port town of Saint-Jean-de-Luz, then loop through the pastoral Pyrénées foothills, surrounded by plane trees and wildflowers."

Back to Top
---
A Skateboarder's Tel Aviv
Pre-Shabbat vibe sessions and pro skate parks.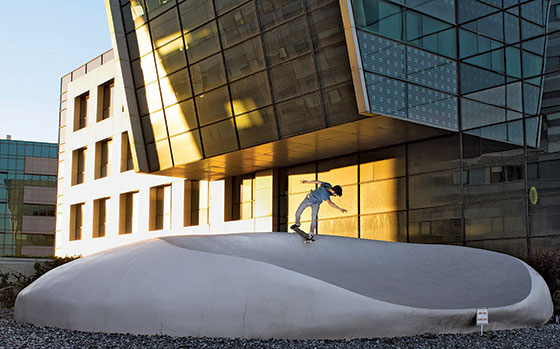 Gadi Naor, owner of Noiz Skate Shop

"The beauty of the scene here is that as long as you're not skating on top of someone's head, you won't get harassed by cops. Back in the mid-2000s, big skate brands started sending their teams over here for film missions, and over time, the combination of that kind of exposure and social media have made the city a solid skating destination. One special street spot is Golda (23 Shaul HaMelech Blvd.), the cultural center near the courthouse; it has curbs and heavy sets of stairs, and it's a big hangout spot for kids just learning how to skate, more-experienced riders, as well as the longboard-crew girls. The best day to grab a vibe session is on Friday afternoon before Shabbat, and you'll usually find the older guys skating and drinking beers. For a proper skate-park experience, head to Galit (Ha-Shlosha St. 2), which opened in 2007 in Yad Eliyahu. There's a pyramid and a huge wall on the left side that attracts pros like Pako, Itamar Kessler, and Noam "Jimmy" Be'er. Shops, including mine, will host competitions here. There's also the 18-year-old store Lightwave (72 Bugrashov St.; 972 3-525-8537), run by Erez Levin, which has become a hub in central Tel Aviv. Kids have grown up there and gone on to become tattoo artists, musicians, prime ministers … whatever."
His Other Musts
Hotel
"Hotel Montefiore (from $360; hotelmontefiore.co.il) is located in an area famous for its preserved, all-white Bauhaus buildings. Inside, you'll find contemporary art by Israeli artists displayed in the rooms and hallways."
Local Restaurant
"The best burger in Tel Aviv is at Vitrina (Ibn Gabirol St. 54; 972-3-696-0304). They also have excellent hot dogs and French fries, which are made with yam and potato and seasoned with spices and a bit of lemon."
Bar
"I really like Hunky-Dory (Ibn Gabirol 14; 972-54-832-9020). They usually play a lot of alternative-rock music, and their mojitos are great—and strong. You have one and then you're gone."
Chocolate Shop
"Ibn Gabirol is a street known for having several chocolate shops, and my favorite is Cardinal Chocolaterie (Ibn Gabirol St. 60; 972-3-695-8612). Their passion-fruit truffles are perfect."
Nightclub
"Barby (Derech Kibuts Galuyot 52; 972-3-518-8123) is an industrial-style club and music venue that can fit almost 1,000 people, where local and foreign bands play rock, punk, and reggae. You'll get everyone from Tel Aviv hipsters to rockers wearing black, military-style garb."

Back to Top
---
Dixie Ramone, performer for Micca Club

"In April, Rome is going to get its own legal red-light district in EUR, a residential neighborhood south of Rome's historic center—this is already where all the prostitutes hang out. But overall, the nighlife scene is not very undergound. Saturday at midnight, go to Alchemy, a party at this small, mirrored club called Vicious (near Termini Station at Via Achille Grandi 7; 39 06 7061 4349); they have DJs from around the world. After dancing, go to The Jerry Thomas Project (Vicolo Cellini 30; thejerrythomasproject.it) speakeasy around 3 a.m. for the piano and fantastic cocktails. Before I go out, I like to skip the full dinner and go for drinks and meat and cheese at Ai Tre Scalini (Via Panisperna 251; +39 06 4890 7495), an old spot in Monti, a neighborhood with a lot of bars. Or you can eat antipasti and drink at a burlesque show. I used to work for Micca Club, and even though the space shut down in 2013, the artistic director, Alessandro Casella, still hosts performances at venues like Salone Margherita (Via dei Due Macelli 75) in the Piazza di Spagna—it has 450 red velvet seats, including 32 for dinner. Not far from the red-light district, there's a lingerie shop called ZouZou (Vicolo della Cancelleria 9A; 39 06 6892176; zouzoustore.com/it)—fancy and erotic."

Back to Top
---
A Chef's Santiago
Sea-urchin tart and carne mechada.
Rolando Ortega, chef and owner of Salvador Cocina y Café

"We are a group of young chefs breaking into the scene, doing things our way. Santiago is no longer all wine and skiing while avoiding the Chilean food. There's Carolina Bazán at the newly reopened Ambrosia (Pamplona 78; 56-2-2217-3075), whose work is all about the local ingredients—like a sea-urchin tart. And chef Patricio Vergara runs Come y Calla (Girardi 1358; 56-9-6219-4555) in Barrio Italia; it's a kind of underground restaurant that we call puertas cerradas, a clandestine eatery where you can only get a reservation through social media. His seven-course tasting menus include longaniza-crusted hake in a coconut curry sauce, and cocktails with hibiscus tea, vodka, and foraged sea strawberries. A lot of chefs stop to eat at La Marita (stall 837, Antonia López de Bello s/n), a stall inside the La Vega Central market. They have this sandwich with carne mechada (shredded roast) that's smeared with avocado; it's served on two just-fried sopaipillas."
His Other Musts
Hotel
"The Aubrey (from $195; theaubrey.com) is at the foot of Cerro San Cristóbal in Bellavista, Santiago's bohemian neighborhood. It's set in this house that was built in 1927 and has just 15 rooms, all distinctly decorated, and a great pool."
Neighborhood
"Barrio Lastarria is a neighborhood near the center of the city where antique stalls line some of the cobblestoned streets. I bought this incredible book about meat the other day for about $8. There are also chic hotels like the Singular and the Centro Gabriela Mistral cultural center, plus lots of art galleries and nice restaurants."
Day Trip
"Thirty minutes from Santiago, the Cajón del Maipo is a river valley deep into the cordillera. It's a great spot for nature and activities like hiking to glaciers, rock climbing, ice climbing, or horseback riding. The last time I went, I hiked three hours up to the San José Volcano and stayed at a mountain camp at the base, Refugio Plantat, which was built in 1937."

Back to Top
---
A Ballerina's Montevideo
Romeo & Juliet and youth orchestras.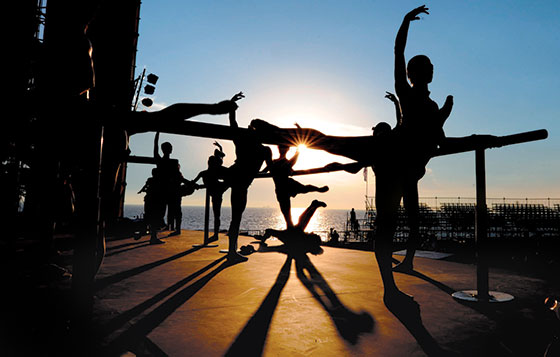 María Riccetto, principal at the Ballet Nacional Sodre

"I moved back to Uruguay a few years ago, after having lived in New York for almost 14 years. Every time I would come back, I saw how the city was changing. It's not like ten years ago, when, if you wanted to go to the theater, you'd have to cross the river to Buenos Aires. The Teatro Solís (Reconquista at Bartolomé Mitre; 598 2 1950 3323) is the oldest theater—it reopened after almost a decade of renovations—and the Auditorio Nacional del Sodre (Andes at Mercedes; 598 2900 7084) opened in 2009, which is where the Ballet Nacional is based. We're really the only major dance company here—now that Julio Bocca has taken over, our repertory has expanded a lot; this season I'll be dancing Juliet in Romeo & Juliet. But there's this up-and-coming choreographer, Martin Inthamoussu, who's always putting on shows for his Compañía de Danza at this small theater, Sala Verdi (Soriano 914; 598 2901 7453). All my dancer friends live around the theater, in the Centro, so we mostly hang out at this bar Bluzz Live (Daniel Muñoz 2049; 598 2402 4545); in the summer, everyone spills out onto the street. Though my schedule is tight, I'll do my best to hear classical music. The Orquesta Juvenil, the national youth orchestra, just played one of my favorite pieces, Ravel's Bolero, at the Sodre, and it was fantastic—you could really feel their energy."
Her Other Musts
Hotel
"The Don Boutique Hotel (from $100; donhotel.com.uy), in Ciudad Vieja, located right in front of the Mercado del Puerto, only has a few rooms but is really nicely designed; it's modern and minimalist, and it has a great rooftop pool."
Clothing Boutique
"When I have a big event, I'll get something at Carolina Criado's boutique, Caro Criado (Carlos Saez 6695). This season, her clothes had a huge American West influence, and last season she brought a lot of interesting fabrics from India into her collection."
Special-Occasion Restaurant
"Take an easy $1, 30-minute bus ride to Burdeos (end of Avenida General Artigas; 598-95-243-012), a seafood restaurant in El Pinar, located alongside a river. The last time I was there, I had a shrimp the size of my hand!"
Day Trip
"Colonia, a two-and-a-half-hour drive, is this quiet, older city with a basilica, run-down streets, and these beautiful river beaches. My boyfriend and I just rented a little house there just for the weekend."
Soccer Stadium
"Try to see a game at the Estadio Centenario (in the Parque Batlle, nr. Avenida Dr. Americo Ricaldoni), where the first World Cup was played in 1930. Even if there's no game, it's worth a visit for the museum with historic photos and old uniforms, plus you can take a tour."

Back to Top
---
A Designer's Zagreb
All-white lamp shops and socialist-modernist patio bars.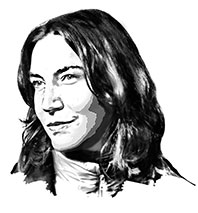 Lana Cavar, design director for the Croatian National Theater

"In the 15 years or so since Yugoslavia fell apart, Zagreb has gradually become known for its small-batch furniture, influenced by the mid-century modernism of the socialism era. I love the recent boomlet of design-related spots on tree-lined Dežmanov Prolaz. Highlights include Love, Ana (Dežmanova 4; 1-5801-675), the all-white studio-store of Ana Tevšic, whose signature is her portable, copper-topped beechwood lamps; a pair of artsy café-bars called Velvet (Dežmanova 9; 1-4846-743), one painted light gray, the other dark gray, by Zagreb's famous florist and interior decorator Saša Šekoranja. A stroll east of Zagreb's central Ban Jelacic Square is the Croatian Design Superstore (Martićeva 4; 1-5806-565), which features about 150 Croatian designers. The designers themselves hang out at Potepuh (Opatovina bb; 1-4814-943), one of the last public spaces with 1960s low-back armchairs by Bernardo Bernardi. It's great for day drinking on the patio."
Her Other Musts
Hotel
"Studio Kairos (from $58 a night; studio-kairos.com) is a four-room B&B, a quickie tram or bike ride east of Ban Jelacic Square. I hear the homemade jams they serve are delicious."
Food Market
"Dolac is Zagreb's main food market, dating back to the 1930s. Look for the sir i vrhnje (cottage cheese and cream) and local corn bread."
Clothing Store
"Call ahead for a visit to Little Horse and Baby Beuys (Tomiceva 7; 99-355-3095), the studio of the Mujicic sisters, hidden in the back of a courtyard by the funicular. Their children's toys and clothing are handcrafted with Japanese silk and vintage buttons made of porcelain and seashells."
Museum
"I love the Technical Museum (Savska 18; 1-4844-050) for its mid-century industrial vibe and its ephemeral feel. At the Nikola Tesla Cabinet, you can test out some of the inventor's experiments, and the planetarium simulates the night skies from the North Pole to the Equator."

Back to Top
---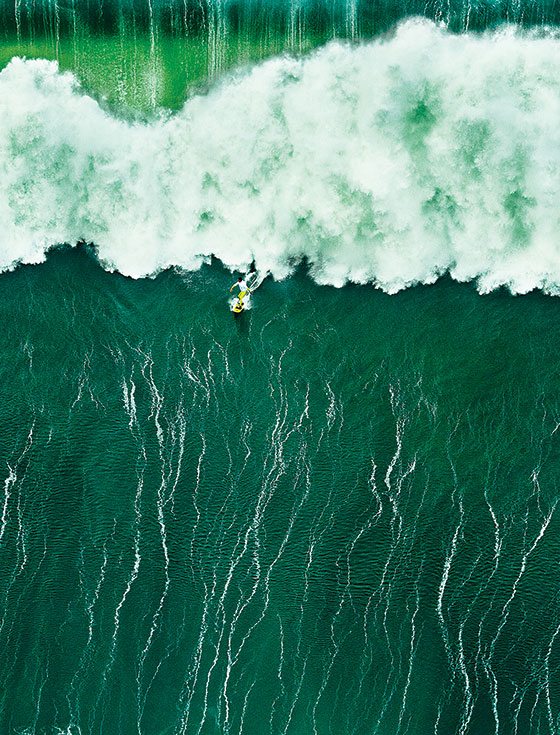 Michael Hall, owner of Blackfern Surfboards

"When i tell people I make surfboards, they say, 'People surf in Oregon?' It's a less mature sport here, but in the last ten years, it's picked up momentum. Oregon is a lot more accessible than California, where you can be instantly intimidated by the caliber of surfing. Plus, all of our surf spots are in state parks, so you're looking at Sitka spruce trees instead of houses. Spring typically has the most magical days—fun-size waves with favorable offshore winds. Indian Beach in Ecola State Park is a couple miles' drive north of Cannon Beach; the parking lot's small, so it never gets too crowded. On your drive back, head to Bill's Tavern and Brew House (188 N. Hemlock St.; 503-436-2202) for a post-surf burger, and stay the night at Tolovana Inn (from $72; tolovanainn.com), which has oceanfront suites. For more powerful waves, head south to Pacific City, home to a surf spot called Cape Kiwanda. Right on the beach, Pelican Pub & Brewery (33180 Cape Kiwanda Dr.; 503-965-7007) is always crawling with surfers heading to their hot-water outdoor shower—a hot shower in your wetsuit is magic."

Back to Top
---
An Author's Sydney
Writer fests on Walsh Bay and literary walks along Bondi Beach.
Ceridwen Dovey, whose most recent story collection is called Only the Animals

"Sydney has always been seen as culturally inferior to Melbourne, but it's become a real literary destination in recent years. The Sydney Writers' Festival (swf.org.au) is May 18 to 24, with James Patterson headlining, but its events are year-round across Sydney, from Blacktown to Hornsby to Parramatta, which has a thriving arts scene. The festival hub is at Walsh Bay, also home to the Sydney Theater Company, around the corner from the Harbour Bridge. Last year, there were deck chairs where you could look out across the refurbished piers to the water. Gleebooks (49 Glebe Point Rd.; 61 2 9660 2333) keeps with the area's hippie roots, with a cozy upstairs room for readings by local authors like the beloved memoirist Patti Miller and the biographer Kate Grenville. I love the recently launched Giant Dwarf theater (199 Cleveland St.; giantdwarf.com.au) for live events with writers and comedians. Not long ago I saw Russian-American journalist Masha Gessen there, talking about her new book on Pussy Riot. You can also create your own literary coastal walk: Start at Bondi Beach and walk along the ocean path built into the sandstone cliffs. Between Bronte Beach and the Clovelly inlet, Waverley Cemetery houses graves of Australian authors including Henry Lawson and Dorothea Mackellar—and has some of the best views of the ocean."
Her Other Musts
Hotel
"QT Sydney (from $295 a night; qtsydney.com.au) opened in 2012 in a historic building beside and above the State Theater on George Street, right in the center of the city. The décor pays tribute to the site's heritage, with artwork such as a vintage wall created from old office objects found on-site. Even the staff stay in character in pin-striped suits and red bobbed wigs."
Special-Occasion Restaurant
"Mr. Wong (3 Bridge Ln.; 9240-3000) is a huge split-level restaurant, but you have to search down an alley to find the entrance. They make a really good old-fashioned, and the Cantonese-style menu is extensive. Don't miss the whole duck ($60)."
Secondhand Shop
"At Vinnie's (St. Vincent de Paul Stores; 6202-1200), you have to go and 'fossick for gold' among the duds, but recently I found a short beaded wedding dress in '20s flapper style that I'm saving for a special occasion, and a teapot quite skillfully painted with a skull and crossbones."

Back to Top
---
A Yogi's San Juan Del Sur
Bamboo-gated Vinyasa and flax-bread sandwiches.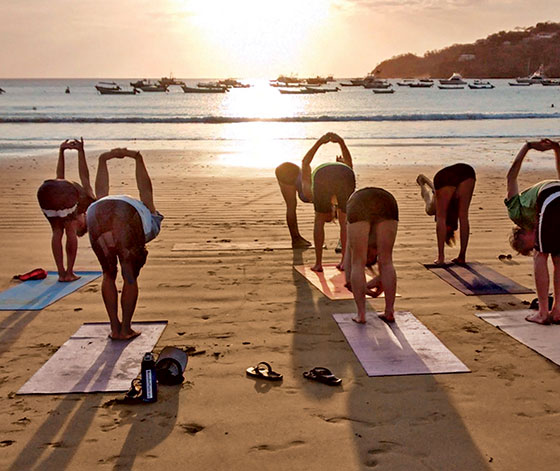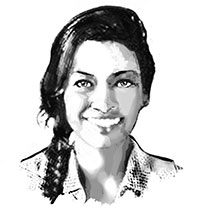 Yaosca Jiménez, owner of the yoga-inspired Turquesa Boutique

"San Juan Del Sur was largely unknown outside Nicaragua until it became a surf town in the '90s, after the civil war. I took my first class with an expat named Vanessa Pattison about ten years ago. Since then, the yoga culture has grown so fast, as has the health and wellness scene. In 2011, Vanessa opened our first yoga studio, Zen Yoga (505 8465 1846, $8 drop-in, $35 for 5-pack), which specializes in Vinyasa. It's off the main plaza; you enter through these bamboo gates into a garden full of tropical plants. The restaurant next door, Buddha's Garden (Avenida La Bolsa; 505 8986 6654), is the best one in town, and so healthy—try the Zen sandwich with flax bread. There's also Simon Says (Avendida Vanderbilt; 505 8769 2148), which was a smoothie bar opened by an Argentine couple; it's now so popular that they just expanded it into a full-on restaurant. I'll sometimes bike to Nica Yoga (Km 137 1/2 Carretera; 805 426 5296), which is about three miles outside of town. It has these beautiful open-air studios and hosts retreats. Every meal is locally sourced—­and you can even buy organic sunblock and toothpaste at their shop."

Back to Top
---
A Fashion Designer's Lagos
Batik pillows and vintage Yohji Yamamoto.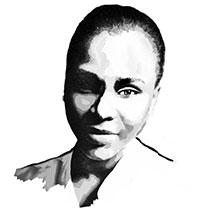 Lisa Folawiyo, owner and designer of her eponymous womenswear label

"It's not that Lagosians are consumed by fashion, but the way you present yourself is important here. As people like Suzy Menkes have been coming to Lagos Fashion Week and more Nigerian designers like myself are showing their collections abroad, that's gotten a lot of young people to join the industry. I like to go to the Nike Center for Art & Culture (2 Elugushi Rd.; 234 80 340 96656) for inspiration; it has an incredible collection of traditional African textiles. As for actual shops, my sister-in-law just opened Alara (12A Akin Olugbade St.; alaralagos.com), where you can get stacked Marni wedges or cropped Loza Maléombho vests. Temple Muse (21 Amodu Tijani; 234 708 726 4853) was one of the first boutiques to offer that mix of local and foreign brands: batik pillows and Assouline books. Stranger Lagos (3 Hakeem Dickson St.; 234 1 295 7665) skews younger; besides the vintage Rei Kawakubo and Yohji Yamamoto, and local lines like Orange Culture, they sell coffee, so people are always just hanging out."
Her Other Musts
Hotel
"The Wheatbaker Hotel (from $513; 234-277-3560) is on this quiet street in Ikoyi—a calm oasis in Lagos. I always head straight for their lunch buffet and the efo riro—a rich vegetable soup."
Local Restaurant
"For the best traditional seafood-okra soup and pounded yams, go to L'Afric (1 Adeola Hopewell St.; 803-302-7071). On Sundays, it's full of families for after-church brunch."
Bar
"On most nights, we all end up at Miliki (7b Etim Inyang Crescent), a bar that really transports you to the '60s with African high-life music and old concert posters."
Market
"At the Lekki Market, you can find beads, wood sculptures, and pottery. I love their selection of small leather goods. Just remember, you have to haggle—here they call it 'pricing.' "
Museum
"Nigerian explorer Dr. Newton Jibunoh honored his late sister with the Didi Museum (175 Akin Adesola St.; 709-850-5052). It's got family mementos, plus a great collection of modern African art."

Back to Top
---
Emre Huner, who's working on pieces that will show at the Istanbul Biennial in September.

"Istanbul really is a huge city with a small art scene, but one that's cohesive—everyone knows each other. The excitement really lies in discovering all of these independent, artist-run initiatives, many of which have sprung up in the past few years, like BAS (Necati Bey Caddesi No. 32/2; 90-555-503-3847), an art-book archive that's located in Karakoy, or Protocinema (90-541-468-0214), which hosts roving exhibitions at offbeat spots, like when artist Trevor Paglen installed a nonfunctional satellite sculpture in a mechanics garage. In terms of larger institutions, be sure to visit SALT Galata (Bankalar Caddesi 11; 90-212-334-2200), an art center in the former Ottoman Bank that hosts exhibits but also has an international cinema program, a bookstore, and a rooftop garden. I'm represented by Rodeo Gallery (Siraselviler Caddesi No. 49/D:1; 90-212-293-5800), which is definitely offering things that you wouldn't otherwise see in Istanbul; last year, they put on a group show that featured a group of artists whose works focused on found objects—like shower doors. On the Asian side of the city is a great dive bar, Arkaoda (Kadife Sokak No. 18/A; 90-216-418-0277); recently, Deform-E, a DJ duo who are also the folks behind a popular record store in Çukurcuma, Deform Müzik (Turnacibasi Cadesi No. 45; 90-212-245-3337) have taken over the music programming. I just caught a performance from Ha Za Vu Zu, a collective of artist friends based here."

Back to Top