Winter Travel
Grand Bahama Island
Grand Bahama Island has been spiffed up for a chic clientele — but remains as laid-back as ever.
BY MICHAEL STEELE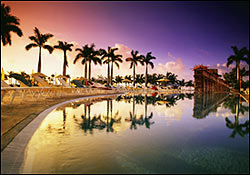 Heads, you swim: The Sugar Mill pool at Our Lucaya (Photo courtesy Our Lucaya Beach & Golf Resort)
Several generations ago, Grand Bahama Island reveled in a rakish Rat Pack chic. Frank Sinatra, Sammy Davis Jr., and other swells frequented the island's casinos, and Howard Hughes built himself a beachfront cloister named Xanadu. In the seventies and eighties, the island fell on hard times; and despite its proximity to the U.S. (you can depart La Guardia at 8 a.m. and be on the beach by noon), discerning travelers stayed away. Now the island is staging a comeback, and leading the way on the big island are Our Lucaya Beach & Golf Resort and the Inn at Old Bahama Bay, both of them new.

Old Bahama Bay, on the sleepy West End, is a boutique hotel comprising 47 suites, each with its own beachfront balcony. The complex is designed in a subdued, plantation-Colonial style, with so few rooms that it never feels crowded. After the sirens and stress of New York, Old Bahama Bay was like one of those mirages you see in cartoons. The view from our room was so perfect we actually burst out laughing. There was even a hammock on the beach, strung between two palm trees, with a dog in it. After surveying the big room (boutique amenities in full effect: Frette robes, luxe bath gels), I made a beeline for that hammock — sorry, Fido.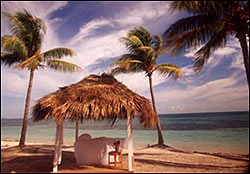 There's the rub: A massage hut on the beach at Old Bahama Bay. (Courtesy Our Lucaya Beach & Golf Resort)
Not that there isn't plenty to do. The hotel offers boat rentals, tennis, nature trails, fishing charters, and bonefishing guides. Because of its relative underdevelopment and shallow waters, as well as accessible coral reefs and a few wrecks, the West End has excellent snorkeling opportunities (especially suited to novices). The hotel provides waterproof field guides to local "snorkel trails," most of them within wading distance.
If Old Bahama Bay is a village, Our Lucaya, the new megaresort in the heart of the island, is a sprawling metropolis. It's actually three hotels in one: The most exclusive is Lighthouse Pointe, a series of low-rise beachfront suites; at the other end is Reef Village, a kid-friendly hotel; and Breakers Cay, located between the two, is a curvy ten-story block resembling an Art Deco layer cake. Our "junior" oceanfront suite in Breakers Cay was actually enormous (bigger, in fact, than many apartments I've had in New York) and quite comfortable.
Our Lucaya has been described as a more laid-back Atlantis: There are 1,350 rooms, fourteen restaurants and bars, two first-rate golf courses (one by Robert Trent Jones Jr.), a Butch Harmon School of Golf, four tennis courts, three pools, a spa, an armada of watercraft, and more than seven acres of beach. unexso's headquarters is just across the street, from which it runs diving excursions and its Dolphin Experience program. And there's a warren of duty-free shops, including Gucci and Cartier, within strolling distance. With so much to do, it's amazing that the resort is able to maintain such an unhurried atmosphere. You won't feel guilty frittering away an afternoon at one of the pool bars (at least I didn't) or lingering over tea and scones on the Manor House porch while simply savoring the view.
Details
• Old Bahama Bay (800-572-5711, www.oldbahamabay.com; rooms start at $290)

• Our Lucaya (877-687-5822, www.ourlucaya.com; rooms start at $130)

• In December, US Airways (800-622-1015) will launch a daily nonstop flight from La Guardia to Freeport.
islands & tropical

---
ski resorts

---
europe

---