Chicago
What's hot in the city this year?

From the March 24, 2003 Issue of New York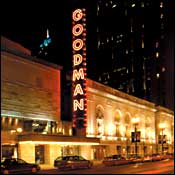 Book a room at at Hotel 71 (312-346-7100; hotel71chicago.com), formerly the Executive Plaza Hotel, a stylish downtown boutique overlooking the Chicago River.

Have dinner at newly resurgent Gioco (312-939-3870), executive chef Corcoran O'Connor's unreconstructed carbfest (the pastas are spectacular) in the shadow of the rumbling El train in the revitalized South Loop district.
Grab a drink at Sonotheque on Chicago Avenue (312-226-7600), where the designer behind the mod interiors of MTV's Real World Chicago has created a stylish, unpretentious bar that hosts a red-hot lineup of jazz, funk, soul, and world-music D.J.'s.

See the Museum of Contemporary Art (312-280-2660; mcachicago.org), the gorgeous series of sleek white-box galleries designed by Berlin-based architect Josef Paul Kleihues and unified by a cutting-edge curatorial approach. "Life Death Love Hate Pleasure Pain," a sprawling group exhibition, is there through April 20.

Buy vintage clothing and furniture in Andersonville, the Northside Swedish neighborhood that's recently heated up thanks to its selection of cool little boutiques. (Wander through the quirky sole-proprietorships clustered at the Landmark Shops.)

Don't miss the renowned Goodman Theatre (312-443-3800; goodman-theatre.org), with upcoming world premieres of August Wilson's Gem of the Ocean (April 18–May 24), and Stephen Sondheim's Bounce (June 20–August 10). Buddy Guy's Legends (312-427-0333; buddyguys.com) is the place to take in some classic Chicago blues.

-- SIMON DUMENCO