Cruise to Nowhere
Now boarding.
From the March 24, 2003 Issue of New York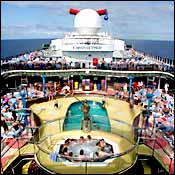 Picture a resort with four pools, full-service spa, massive gym, house casino, and eighteen bars and lounges. Tack on a restaurant serving up filet mignon and lobster, plus music and dancing, a midnight buffet, and maybe a whirlpool under the stars. You're thinking Monte Carlo? Vegas? Here's a hint: You can get there by cab. Hell, you could walk there from midtown. It's the thirteen-story, 893-foot, 1,575-room Carnival Victory, which heads down the Hudson, out to sea, and back on its two-night "cruises to nowhere." Regal has been offering similar voyages for eight years. Its 612-foot Empress holds 900 guests (not so different from some Hamptons share houses) and offers the same amenities as the Victory, just on a (slightly) smaller scale. Empress leaves town on Friday at 4:30 p.m. and returns at 8 a.m. on Sunday. Prices begin at $149 (Regal) and $269 (Carnival) and top out around $800 per person, for a top-of-the-line suite with large balcony. Getting out of the steamy city without sitting for hours in traffic? Priceless.
— Julie Mautner



Details
Regal's two-night cruises depart July 4, 18, and 25, August 8, 15, and 22, and September 12 and 19 (800-270-7245; regalcruises.com); Carnival cruises are June 17, 19, and 21 (800-CARNIVAL; carnival.com).

Photograph: Courtesy of Carnival Cruises