Karma Triyana Dharmachakra, Woodstock, New York
A taste of Tibet.

From the March 24, 2003 Issue of New York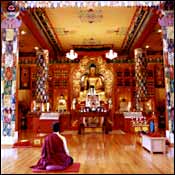 This glittering temple may look like it belongs in the Himalayas, but in fact, it's the North American monastic seat of His Holiness the Gyalwa Karmapa, the spiritual head of the Kagyu lineage of Tibetan Buddhism—and it's right here in Woodstock. Guests come to meditate, study Buddhism, and sample the ascetic life. But there's a catch: Each day, you have to do 90 minutes of "karma yoga" (read: washing dishes and maintaining the grounds). It's like meditation camp, with monks as counselors.