Old Rhinebeck Aerodrome in Rhinebeck, New York

From the March 24, 2003 Issue of New York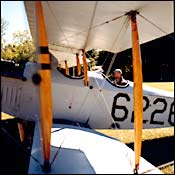 Strap on a helmet and goggles and take a fifteen-minute flyer over the Hudson Valley in a 1929 open-cockpit biplane. Afterward, check out the antique planes at the Old Rhinebeck Aerodrome, where you can tour the museum or catch an afternoon air show. Spend the night at Beekman Arms, the oldest B&B in America—George Washington slept here. No, really.