Winter Travel
Miami
Miami is a bargain-hunter's dream this season: You can't afford not to spend time there.
BY BETH LANDMAN KEIL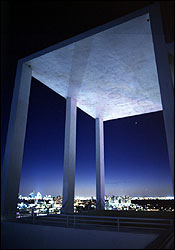 Twilight zone: The view from the Shore Club. (Photo by Kenneth Chen)
At a time of year when it's traditionally impossible to find inexpensive accommodations or reasonable plane fares, flights to Florida and rooms in Miami can suddenly be had at jaw-dropping savings. The Sunshine State's tourist-based economy, like New York's, has been affected by the current climate. South Americans and Europeans who usually flock to the area are staying away, and in order to attract travelers, hotels and airlines are offering unprecedented deals.

"Miami was down to single-digit occupancy after the 11th, but we have come together as a community. Now our deals have deals, and there's an enhanced sense of hospitality," says Tony Goldman, who is offering a rate of $85 per night at his Ocean Drive property, the Park Central (800-727-5236), and $135 per night at The Hotel (305-531-5796), his Todd Oldham-designed place on Washington Avenue. Both establishments are offering complimentary Continental breakfast for two, free parking or transportation to the airport, nightly happy hour, and a free bottle of wine with dinner (at The Hotel only).

The highly anticipated $160 million Shore Club (305-695-3100) has finally opened 100 of its 375 rooms, along with the pool area and a Nobu outpost, and one of its $575 rooms can currently be had for the preview rate of $175.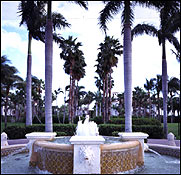 More is now less: The Fisher Island Club. (Photo by Kenneth Chen)
The recently renovated Chelsea hotel (305-534-4069) and Mercury hotel (305-398-3000), both in South Beach, are offering a rate of $125 per night. If you stay the weekend, they'll throw in two more nights, pick you up at the airport, give you breakfast and happy-hour drinks, and get you free admission to almost any club in town. "If a few people share a room at one of my hotels, they wind up making money!" insists owner Alan Lieberman.

Chris Blackwell's Island Outpost (800-OUTPOST) has reduced its $145 rooms at the Kent to $99, and its suites at Casa Grande have gone from $295 to $150, both through December 20. The super-private Fisher Island off Miami will be particularly appreciated this season, and the luxurious Fisher Island Club's hotel (305-535-6026) is offering 20 percent off on its villas (which start at $476), and throwing in a complimentary upgrade, free tennis, massage, round of golf, champagne, chocolate-covered strawberries, and a golf cart to zip around the property.
Some airlines are also being equally accommodating. JetBlue's current one-way rate to Fort Lauderdale, Orlando, Tampa, West Palm, or Fort Myers is an astonishing $59 with a three-day advance purchase, through December 15, excluding Thanksgiving (800-jetblue). Delta, meanwhile, is offering a $152 round-trip to Fort Lauderdale and $176 to Miami through December (800-221-1212).

islands & tropical

---
ski resorts

---
europe

---