In many cities besides New York, $250 gets you a nice room at a good hotel, with shampoo, a shower cap, and maybe even an in-room coffeepot. In New York, not so much. But with some digging and some deals, it is possible to find a clean room, a soft mattress, free Internet, and fresh-baked cookies for two-and-a-half Franklins. Note: Prices can vary widely (especially in the fall and spring high seasons) and often go up during the week.
Hyatt Regency Jersey City on the Hudson
2 Exchange Pl., Jersey City, N.J.; 201-469-1234
Price: $259
Pros: Great views
The best $300 hotel in New York is in New Jersey—a one-stop, four-minute PATH ride or short Water Taxi ride from lower Manhattan. My room has water and city views (not all do, but the ultranice front-desk agent upgraded me because there was available space). The room is 400 feet, with low-key and sophisticated touches: a granite bathroom sink; a rather masculine taupe, brown, and gray color scheme; a good-size desk for working; and very upscale bedding—plus a spectacular view of the Woolworth Building.

414 Hotel
414 W. 46th St., nr. Ninth Ave.; 212-399-0006
Price: $225
Pros: Quaint and quiet
The theater district's 414 Hotel is something of an anomaly. It's a quirky and inexpensive boutique hotel carved out of two historical townhouses separated by a charming, internal courtyard in the middle of the area's flashing lights, high-rises, and pricey hotels.

Comfort Inn
42 W. 35th St., nr. Fifth Ave.; 212-947-0200
Price: $259
Pros: Location, location, location
Thanks to its proximity to popular sights, the Comfort Inn on 35th Street draws visitors for whom glitzy nearby surroundings trump glitzy accommodations. A short walk from Times Square, the Empire State Building, and Fifth Avenue shopping (among other attractions), the hotel is centrally located for first-time visitors.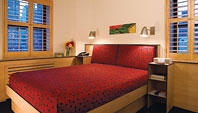 On the Ave
2178 Broadway, at 77th St.; 212-362-1100
Price: $229
Pros: Big rooms
It looks like W Lite, with a sparsely chic lobby and self-conscious touches like backlit black-and-white photos of New York in the elevator. The rooms have a similar aesthetic, but they're well apportioned; mine is a good size, with a clearly delineated seating area, a wing chair, and a separate area for a desk. The bathroom, however, is tiny. The front-desk staff lacks the professionalism of bigger chains ("I'm about to go on my break, so she will gladly help you!" an attendant told me, pointing to her colleague). But at least you're not in midtown.

The Hotel at Times Square
59 W. 46th St., nr. Sixth Ave.; 212-719-2300
Price:$214
Pros: Additional facilities like a business room and fitness center
The former Super 8 was renamed in 2008, but no matter the moniker, its location in what's left of Little Brazil puts it within walking distance of Broadway shows and Rockefeller Center, and thus makes it popular with European backpackers and budget travelers.

Hotel 17
225 E. 17th St., nr. Third Ave.; 212-475-2845
Price: $155
Pros: Gritty glamour
The setting for Woody Allen's 1993 Manhattan Murder Mystery, this is one of the most love-it-or-hate-it of the bunch. The lobby is teeny, and the rooms, all decorated differently, are in a time warp. Mine has shiny prints, slight wallpaper peels, and dark wood furnishings that are very Addams Family. The bedding is reasonably clean but flimsy, with a thin comforter. There are both shared and private bathrooms, and basically no services, but given the hotel's shockingly low standard-room rate in low season, ordering in from Joe Jr.'s on Third Avenue isn't such a hassle.

The Pod Hotel
230 E. 51st St., nr. Second Ave.; 212-355-0300
Price: $199
Pros: Mod décor
This hotel, formerly the cheap, chintzy Pickwick Arms, became the cheap, cool Pod. Rates start at $79, and just over half the rooms have private baths. The aesthetic is standard spare modern: light wood and red comforters with geometric prints. My room, measuring about twelve feet by eight feet, has a bed connected to two side tables, a tiny work desk, small closet nook, and flat-screen TV. There's a new-paint-over-old feeling, though; the elevators are rickety, the walls are thin, and the mattresses are hard. The hallway smelled like poo for the duration of my one-night stay. For $215, the room-with-bath isn't a great value; a shared-bath rate for $155 or less is a decent choice.