Where to Stay
Stay steps from the Duomo at Ostello Bello, a furniture showroom turned stylish boutique hostel. After exploring the city, kick back in reclaimed-furniture-filled rooms (private from $88 per person, including a breakfast buffet) or hang in a hammock on the property's bright terrace. Head inside once the sun sets for the aperitivo tradition: For the price of a drink ($5–7), you also get a selection of rotating edibles like bruschetta and pasta alla norma with eggplant, ricotta and tomatoes (plus, you'll meet the locals—Ostello Bello's bar is a popular watering hole in the area). This is a truly full-service spot: The hostel also offers free tours and tastings in the area, film screenings, musical instruments for jamming out, Italian history and language lessons, and even babysitting.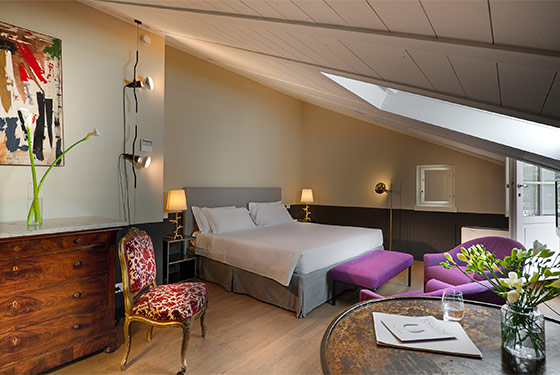 Take a step back in time at Maison Borella (double rooms from $220, including breakfast), set in a restored 18th-century balustrade house. Enjoy a view of the canals while brushing up on Milanese history in the hotel's lobby, outfitted with plush couches, vintage rugs, and antique coffee-table books on art and architecture. Though the hotel is in Navigli, an area known for its nightlife, you'll have no trouble sleeping: The rustic-chic rooms with exposed-brick walls and beam ceilings are soundproofed. Come morning, enjoy a traditional breakfast of espresso, pastries, fruit, and homemade bread and jam.
Dream of the South Pacific at Vietnamonamour (from $87), a former 1900s mansion designed to evoke colonial Hanoi. The B&B is an ode to owner Christiane Blanchet's Vietnamese heritage and Parisian upbringing, and vintage glamour pervades everything from the rice-paper wall coverings to the red, gold, and pink linens and Vietnamese artisan-made furniture. Pop down to the associated Vietnamese restaurant on the first floor for a tasting menu including nem rolls, rice noodles, sea bream baked in lotus leaves, and cake with ginger sauce ($32; discounts offered to hotel guests). Ask to be seated in the private garden set with umbrellas, lanterns, peonies, and large black-and-white photos of Vietnam, and you'll forget you're in Italy.
Where to Eat
Explore an experimental Milanese dining concept at Taglio, a hybrid kitchen, bar, food workshop, and emporium housed in a raw, industrial-chic brick-and-wood space. Pull up a seat and choose from a rotating locavore menu of high-quality ingredients ranging from Milanese brioche ($1.30) to homemade potato gnocchi with clams, parsley oil, chili, and broccoli gazpacho ($16) and Crema Catalana with vanilla and tangerine ($9). Be sure to try the restaurant's twist on risotto alla Milanese ($16) or cotoletta, a Panko-crusted pork cutlet cooked in clarified butter and served with shaved almonds and orange zest, ($18.50).
Pull up a barstool at Lambiczoon, a sleek spot near Piazzale Libia with a dozen beers alla spina (tap) and alla pompa (cask), or 200 by bottle. Most beers here are sour ales and lambics, and the menu pairings with handcrafted burgers make this a combination that's rare in Italy. Drink an aged Gueuze Cantillon ($6.50) while munching on the pub's custom Testa Quedra burger ($11), topped with Fontina, cured pork belly, Parmesan mayonnaise, and balsamic-vinegar reduction. This is also the spot for the rare Italian hot dog: the Lambic Dog ($11), which comes with Dijon mustard and homemade sauerkraut and goes nicely with a Drago Verde lager from local Milanese brewery Birrificio Lambrate.
Dine amid exquisite blooms at Fioraio Bianchi Caffè, a former flower shop that has been converted into a restaurant where you can buy drinks, food, and flowers all at one place. Inside the whimsical, country-chic interior, choose from a mix of upscale Italian dishes that rotate monthly, like black-and-yellow taglioni with swordfish, cherry tomatoes, and artichoke ($18.50) and duck breast with plums, pine kernels, and purple potatoes ($30); save room for the limoncello cheesecake ($10).
What to Do
Peruse more than 400 vendors along the canals at the Mercatone dell'Antiquariato (last Sunday of each month) for anything from Mussolini memorabilia to vintage clothing to handmade furniture. Spend as little as $5—or as much as $1,000—on first editions, texts out of print, and other literary rarities at the book market in Piazza Diaz (every second Sunday of the month except August), the largest open-air book market in Italy, which has more than 100 exhibitors and visitors in the thousands. For edibles, head to Cascina Cuccagna, a converted 18th-century farmhouse and compound where you can purchase seasonal and organic goods like fresh fruit and handmade focaccia directly from local producers (every Tuesday and Friday, 3:30 p.m. to 8 p.m.).
Decamp from da Vinci by exploring Milan's alternative art scene at Fabbrica del Vapore, a sprawling complex once used for fixing tram and train parts that is now a center for contemporary visual arts, architecture, photography, and cinema. Rotating exhibits have included Italy's Independent Theatre Festival and Nio Far, a festival of Senegalese culture (all events usually free). Pay a visit to the Milan branch of the influential Lisson Gallery and the established Studio Guenzani to see works by Louise Lawler, Cindy Sherman, and Ai Weiwei; or catch new work by the likes of Frieze Award–winner Mélanie Matranga and her peers at the young Federico Vavassori Gallery. Step outside to check out the highlights of Milanese street art: Check out the lengthy wall next to the Basilica San Lorenzo Maggiore to see a depiction of Leonardo da Vinci cheekily inventing the spray can or walk around the city's street mural central, the industrial Leoncavallo.
Take an evening tour through Milan's jazz scene by heading to the Città Studi district, which hosts more than 60 annual concerts and is in the midst of a three-year development initiative to transform the area into one of Europe's premier jazz zones. For an intimate show, stop by the L'Osteria di Lambrate or La Salumeria della Musica (housed in a former salami processing factory). Serious jazz heads make a pilgrimage to the Blue Note Milano, the only European outpost of the famed New York nightclub, with its strong nightly roster of acclaimed national and international artists. Finish off the night at beer bar Bonaventura, one of the city's standbys for improvisational cats.
Expert's Tips
Milan native Alessio Ascari is the founder and editor-in-chief of Kaleidoscope, an international quarterly of contemporary art and culture.
I love this place called La Madonnina (Via Gentilino, 6), just around the corner from my apartment. An old-school trattoria with simple food, checkered tablecloths, and beautiful décor in the courtyard, it takes its name from a little old statue of a Madonna in a niche on the building's façade. Here you can eat meatballs with tomato sauce, Sopranos style. It's pretty cheap, with courses around $11.
It's great to walk through Giardini Pubblici Indro Montanelli, one of Milan's largest and most beautiful parks. Inside the park is also the Natural History Museum, whose T. rex skeleton I was obsessed with as a child, and the neoclassic planetarium designed by architect Piero Portaluppi. Walking all the way to the park's south exit, you will find yourself right in front of PAC, a contemporary art center hosting temporary exhibitions.
Bar Basso is a historic spot not far from Kaleidoscope's office, where a revised version of the famous Negroni cocktail was first invented, the Negroni Sbagliato ("Wrong Negroni"). It has a '50s vibe and is a great place to mingle with an international crowd during the Furniture Fair and other events.
There aren't many tall buildings in Milan and the city is in a flat valley, so you don't get too many chances to enjoy a view from the heights. But you can find some spectacular perspective views. Piazza della Repubblica, for example, especially at night, is the perfect spot to enjoy bright examples of modern architecture from the '30s to the '60s, with a stunning view all the way to the Milano Centrale, the monumental railway station.
You can still buy all the iconic, irreverent, multicolored, sculptural furniture pieces by Memphis, the quintessentially Milanese design group founded by Ettore Sottsass in 1981, in their gallery (Via della Moscova, 27) in the cozy neighborhood of Brera. But icons don't come cheap!
Resources
Narrow down which contemporary art you want to see by visiting Milano Art Bulletin, where you can sort exhibits by day, week, area, gallery, venue, and more.
Before you head out for the evening, check out Sauce Milan to read up on anything from dim sum to drinking in the Navigli district; they also offer food tours.
Pick up a copy of the monthly Where Milan from your hotel for a comprehensive list of reviews, new openings, and events.