3. What to Do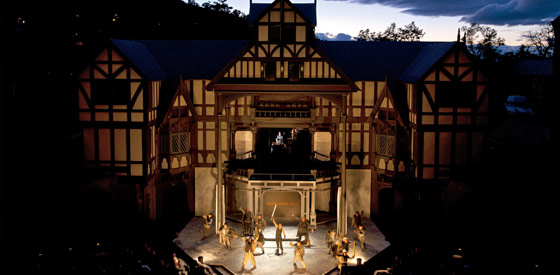 Buy tickets in advance (from $25) for the Shakespeare Festival, a nearly yearlong thespian extravaganza. Since 1935, the festival has held dozens of world premieres (this year it's Robert Schenkkan's The Great Society and Heidi Rodewald and Stew's Family Album), won a Tony Award for achievement in regional theater and spawned alums like Dante Di Loreto (executive producer of Glee) and Frankie J. Alvarez (of HBO's Looking). Hit up one of the 11 plays, especially any held in the Allen Elizabethan Theatre—it's modeled after the Globe, where Shakespeare's plays were originally performed. Though Shakespeare is the focus, the festival isn't confined to works by the Bard: This year, in addition to season-long runs of The Tempest and A Comedy of Errors, the company will perform A Wrinkle in Time (based on the Madeleine L'Engle young-adult classic) and Irving Berlin's The Cocoanuts, among many other offerings. Catch free outdoor "Green Shows" on the Shakespeare Festival campus, where you'll also find tours, play readings, and player panels.
Take in a concert at the Siskiyou Music Project (tickets from $25). The intimate shows—typically in evocative settings like the Paschal Winery—spotlight classical-, jazz-, and world-music masters from around the globe; highlights of this spring's jazz series include pianist Geoffrey Keezer (a veteran of Art Blakey's band, March 1), French-Algerian guitarist Pierre Bensusan (March 17), and the Jessica Fichot Group's witty take on French chanson (April 20). In the mood for something more energetic? Dance the night away amid Ashland's lively local scene. Stop by Oberon's Three-Penny Tavern on Main Street for a good dose of Shakespearean kitsch (juggling musicians in jester costumes, plus local rock bands, in an Elizabethan setting), or let your inner rock star loose at the Wild Goose Café—at karaoke on Fridays and Saturdays and open-mike Sundays, you might well find yourself performing alongside Shakespeare Festival veterans.
Get moving at the Dancing People Company, the headquarters of an internationally acclaimed touring group based in Ashland. Though their season won't start till June, there's plenty of opportunity in the meantime to enjoy the dancers' witty, eclectic sensibility through a variety of classes held every day and for all levels, ranging from contact improvisation and beginner ballet to Afro-Samba and modern dance—there's even aerial trapeze for the truly adventurous (from $13).