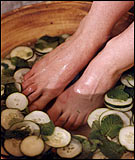 Fresh step:Jin Soon's cucumber foot bath.
Beauty
Best Pedicure

Jin Soon Natural Hand and Foot Spa
56 East 4th Street
212-473-2047
23 Jones Street
212-229-1070

At the Jin Soon hand and foot spas, the treatments all have rather grand names: the Breath of Milk and Honey, the Balm of Purity. But a trip to either location proves that you can't really overstate the experience. Your feet are soaked in milk or cool cucumber baths. The foot massage is extraordinarily relaxing. And Soon scores extra points for great polish: All the best brands (Chanel, Nars) are well represented ($30 to $60).
Jeniette
58 East 13th Street
212-529-1616

GREAT DEAL: It might be worth the $21.85 cost of a pedicure at Jeniette just to hang out in one of their extremely comfy chairs for a half-hour. Considered the best pedicure bargain in town by many of the city's snazzier toes, Jeniette has a famously friendly staff, a good, relaxing foot massage, and a comprehensive polish selection.




Related Articles
New York's Best Spas: The 2002 Report