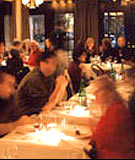 The Harrison:You can't have just one of their fries.
Food
Best Fries

The Harrison
355 Greenwich Street
212-274-9310
Thanks to the nineties-era brasserie craze and mini Belgian boomlet, New York chefs have more or less mastered the art of the French fry. Innovation, when it comes, tends to be in the form of seasoning, like frizzled parsley or cayenne pepper, or a sprinkling of some odd, imported cheese. This year's great innovator is chef Jimmy Bradley, whose compulsively edible Harrison fries are normal in most every respect. They're straight Idaho potatoes, cut at a standard one-quarter-inch width, blanched in oil, then deep-fried to seal in the soft center. After that, though, they're dusted with a mix of cayenne pepper, Madras curry, celery salt, and crushed coriander. The tangy spices give the Harrison's fries their curiously pinkish, oxidized glow. Sample one, and you'll soon be shoveling the rest down in a piggish, two-fisted, Jiminy Glick frenzy.