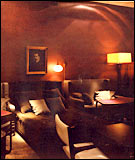 APT: Top DJs make the drink prices more justifiable.
Nightlife
Best Lounge

APT
419 West 13th Street
212-414-4245

Aside from the Grand Lounge sessions at SoHo Grand (which are often packed when bigger names drop by), there are few places where you can hear new D.J.'s in a small, intimate setting. APT has remedied this situation by introducing a weekly lineup of D.J.'s spinning everything from hip-hop to Afro-funk. More recently, the apartment-themed nightspot began adding the sort of D.J.'s (like breakbeat experimentalist Mr. Scruff, housey soul boy Phil Asher, and downtempo icons Fila Brazillia) who aren't likely to get booked in the bigger, more conservative clubs. It's a welcome departure from the amateurish sort of D.J.-ing that passes for entertainment at other high-gloss lounges and bars. And it makes that $9 Pimm's Cup (an APT specialty) go down a lot easier.