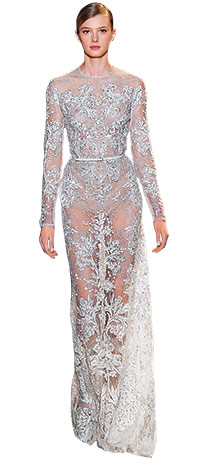 From glittering metallics to dramatic shoulders, a look at the season's standout dresses.
Shop-A-Matic
Let Your Ears Do the Talking

Forgo a statement necklace for showstopping earrings.




Effortlessly gorgeous gowns that capture the radiance and romance of the season.
Molly Guy on New York brides, dress trends, and more.
Save It for the Honeymoon

Sexy undies aren't always practical for the wedding day. But the night after is another story.
Feasts for the Eyes

Hand-painted cakes are a burgeoning art.
Four of the city's top caterers create meals for every time of the year.
From thirties swing to foot-stomping jazz, old-timey music is making a comeback.