Love Pops Up
A Vegas-style (temporary) wedding chapel opens on the Lower East Side.
By Sara Cardace
[an error occurred while processing this directive]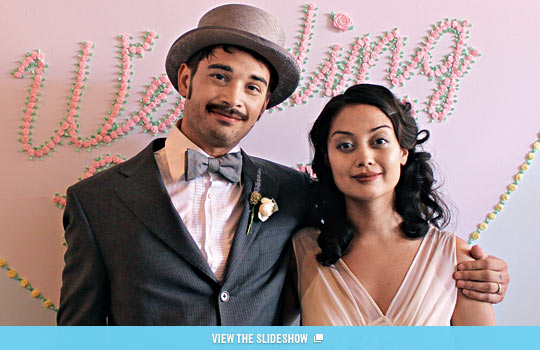 The Norfolk Street Wedding Chapel opened the morning of July 12, and just a few hours later, Nolita sweethearts Sandra Mariano and Joshua Griffler became the first couple to get married there. The tiny (350 square foot) venue was created by brothers Ben and Hall Smyth as part of Grand Opening, their revolving art space that reinvents itself every few months. "We've done a ping-pong parlor and a drive-in movie theater here—the wedding chapel is just the latest grand opening," Ben explains. "Plus, we already had all these white chairs, so we thought we could put them to good use." It's not exactly Vegas, where couples can apply for a marriage license and hit the altar in minutes; at Grand Opening, they still have to go to City Hall to make it legal. Collaborator Kevin Fey, who officiates many of the weddings, has seen all kinds of nuptials, from an L.E.S. husband and wife renewing their vows after 35 years of marriage to a pair who video-streamed their ceremony to the bride's family in the Philippines. "We've had couples in their 50s and 60s, couples who were leaving for a destination wedding but wanted a little ceremony for their New York friends, even a girl fake-marrying her best male friend for the fun of it," says Ben, who expects the chapel's doors to remain open at least into November. Here, a sampling of the weddings that have taken place so far.
139 Norfolk St. nr. Rivington St.: 646-875-8078
[an error occurred while processing this directive]