Honeymoon Times Two
Twelve countries, each done two ways.
[an error occurred while processing this directive]
Chile
Atacama Desert + Patagonia
On a map, Chile is a long sliver hugging South America's western edge, dwarfed by its neighbor Argentina. What it lacks in size, it makes up for in variety. The most wildly different natural beauty exists at Chile's top and bottom: the surreal Martian landscape of the Atacama Desert in the north, and the dramatic snow-capped peaks of Patagonia in the south. For equal parts adventure and luxury, there is Explora Atacama (from $2,184 for three nights), which just reopened after a full renovation, or Alto Atacama (from $1,892 per person for three nights), a resort designed to mirror the hues of the surrounding Salt Mountains. Both have telescopes for stargazing, as the high altitude and lack of light pollution make for spectacular visibility, plus spas for unwinding after trekking past geysers and salt flats. Save one morning for Eastern Safaris, which just began offering hot-air-balloon rides (from $300 per person) at sunrise.
Then head south — connect through Santiago, where latam has new nonstop flights to Puerto Natales — to the Singular Patagonia (from $425), an industrial plant turned five-star hotel overlooking the Last Hope Sound. Arrange excursions to explore the falls of Torres del Paine National Park or ride horseback around the Sofia Lagoon. After a day of roughing it, relax with a pisco sour — Chile and Peru are in a long-standing battle over the drink's origin — before dinner at El Asador, where the star dishes feature meats such as local lamb.
Brazil
Rio de Janeiro + Barra de São Miguel
With the exit of thousands of World Cup and Olympic spectators, Rio has breathing room for the first time in years. Overlooking the beach of the same name is the classic Belmond Copacabana Palace (from $312), a 1923 landmark Art Deco beauty. Or for something completely different, there's Mama Shelter (from $96) in the hilltop neighborhood of Santa Teresa. Onetime Philippe Starck alum Jalil Amor designed the funky rooms, and it's located just a 20-minute walk from the Parque das Ruínas and the Chácara do Céu museum. Other Rio museums to have on your radar: the Museum of Image and Sound, which is set to open in a stunning glass building, and the immense Museum of Tomorrow, dedicated to earthly issues like climate change. For Instagram gold, make your way to Sugarloaf Mountain at sunset. Have moqueca fish stew with a view at Santa Teresa's Aprazível, or fast before a meat feast at one of the many churrascarias like Fogo de Chão and Majórica.
Next: Leave the world behind in Barra de São Miguel (a two-and-a-half-hour flight), with its mangroves and untouched stretches of sand. Check in at Kenoa (from $547), a petite, 23-room beachfront hotel whose design borrows heavily from natural elements (there are exposed stone walls and wooden soaking tubs). A massage at the resort's Caudalie spa will relax any muscles that possibly still feel tense.
China
Shanghai + Huangshan
Think of Shanghai as a paragon of the "something old, something new" wedding trope. The city is part supercharged metropolis sprung from the future, part Art Deco majesty recalling its heyday as the Paris of the East. Channel some of that glamour at the Peninsula Shanghai (from $350), where you'll have access to two Michelin-starred restaurants and a yacht for private cruises along the Huangpu River. A new Aman hotel (rates unavailable at press time), built around restored houses from the Ming and Qing dynasties, will open by year's end; for something a bit more intimate, The Waterhouse at South Bund (from $134) is a boutique hotel with a stripped-down, industrial setting. Outside your room, divide time between the past and present: The antiques-filled Shikumen Open House Museum presents Shanghai life from 100 years ago, while the Power Station of Art is focused solely on the contemporary.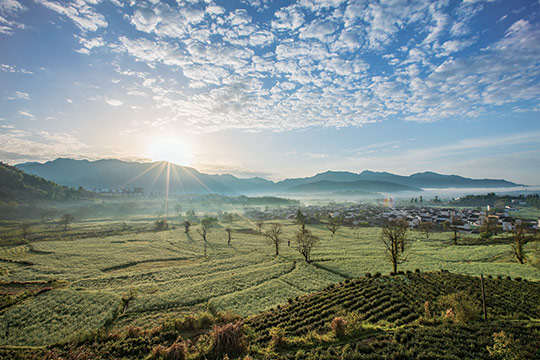 Leave the madding crowd behind en route to Huangshan, which translates to "yellow mountain" and is about an hour and a half away by air. Look out on those oddball granite peaks from a room at the serene Banyan Tree Huangshan (from $335). From there, tour the ancient villages of Xidi and Hongcun or walk through the peaceful Mukeng Zhuhai bamboo forest (setting of Crouching Tiger, Hidden Dragon). A sunrise hike up Mount Huangshan showcases the so-called Buddha's Light halo phenomenon. Reserve time at the spa for treatments that end with a soak in local Mao Feng tea.
Costa Rica
Santa Teresa + Pérez Zeledón
Costa Rica's pacific coastal enclave of Santa Teresa has the feel of Tulum five years ago, before the hipsters descended. At this longtime surfer's paradise, your best bet is to station yourself at Florblanca (from $400), a collection of spacious villas with crochet hammocks dangling in coconut groves. Check out the breaks at nearby Playa Hermosa and Playa Santa Teresa, or take a boat to deserted Tortuga Island to snorkel and spot dolphins. Hike through the jungle — past howler and capuchin monkeys—to a white-sand beach at the magnificent 3,000-acre Cabo Blanco nature reserve. Sustain all the activity with ceviche at Alma and the lobster sashimi or grilled octopus at Koji's.
For part two, go south about 200 miles (on regional airline sansa) to the secluded Pérez Zeledón mountains. Set on 865 acres of landscape dotted with flourishing flora and fauna is the Hacienda AltaGracia (from $375), a cozy retreat where rooms have wraparound terraces ideal for enjoying a breakfast of local fruits, coffee, and gallo pinto. The resort has a world-class equestrian center, so book a ride along the Santa Maria Trail to Rio Calientillo. Zip-line through the rain forest or take a scenic tour of the San Isidro Valley on an ultralight aircraft. Learn about sustainable coffee farming at a plantation nearby, then unwind in the spa (the largest in Central America) with a massage or coconut reflexology.
England
London + Somerset
While Brexit may be brutal for the Brits, it's a boon for Americans, whose currency finally goes a little further. Couple that with a wave of hotel openings in London, and it's the best time to visit in a decade. The Four Seasons at Ten Trinity Square (from $420) just completed a restoration of its Beaux Arts building, while Ned (from $312) is a new space with nine on-site restaurants and a rooftop pool overlooking St. Paul's Cathedral. From the owners of the Gansevoort comes The Curtain (from $300), a Shoreditch hotel with a Red Rooster restaurant. And The Bloomsbury (from $249) just opened its year-round, plant-strewn Dalloway Terrace, serving crispy pig's cheeks and sea bass and chips. There's even more for foodies: Jean-Georges Vongerichten has an elegant new eatery, The Connaught, while Kricket is a modern Indian spot that got its start as a pop-up in Brixton.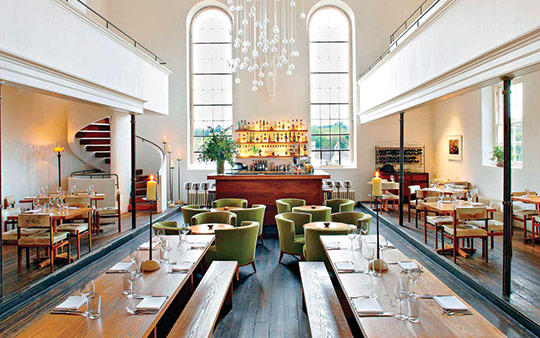 Then satisfy your country mouse with a train ride to Somerset, where a church's lofty ceilings and Gothic windows have been converted to accommodate a bakery, wine store, and inn called At the Chapel (from $156). Ask for room No. 8, which has a garden terrace for enjoying free morning croissants. From there, go cheese tasting at Westcombe Dairy or take in the latest exhibit at the gallery. Then fill up on tomahawk steak and sticky date-and-ginger pudding at Roth Bar & Grill.
Finland
Helsinki + Lapland
Copenhagen and Stockholm may get all the love, but for a corner of Scandi that still feels mildly undiscovered, there's Helsinki. Check in at the Hotel St. George (from $214), a luxury property designed by Onni Tarjanne in a building dating back to the 1840s. It will open this October in time for celebrations of Finland's centennial. Get a handle on Helsinki's landscape with a hike around its surrounding archipelago — the unesco fortress of Suomenlinna, the little wood cabins of Seurasaari, and the recently opened to the public Vallisaari island. Or visit some of the architectural wonders that have earned the city design-capital status, like the serene, minimalist Kamppi Chapel of Silence or the Alvar Aalto–designed Finlandia Hall concert venue. Unwind as the Finns do with some sauna time — the futuristic-looking Löyly opened last spring — then sample avant local cuisine like turnip and whitefish, or potato and whey, at the Michelin-starred, pocket-size Chef & Sommelier.
Once you're stuffed, escape to the far north (daily flights leave from Helsinki on Finnair and Norwegian) to get a glimpse of one of the world's most magnificent natural phenomena: the Northern Lights. (They're usually visible from the end of August until the end of March.) Stay at the cozy (with faux-fur throws everywhere) Arctic Light Hotel (from $300) in the Lapland town of Rovaniemi, a.k.a. Santa's hometown. There's hiking and catamaran cruising in the summer and, in the winter, snowmobiling and ice fishing.
Germany
Berlin + the Bavarian Alps
Two design-minded Berlin hotels opened recently on the western side, in the Charlottenburg neighborhood. Sir Savigny (from $96) is a 19th-century space decorated like an eccentric urban mansion, with floor-to-ceiling shelves crammed with coffee-table books and 44 Art Nouveau guest rooms featuring paintings by Berlin artist Katharina Musick. A few blocks away is the Max Brown Ku'damm (from $84), a growing hotel chain that feels Ace-esque, albeit more colorful, with in-room Crosley record players and Hay bedspreads. Art should stay top of mind in Berlin (the tenth Biennale is scheduled for summer 2018): Visit the König Galerie, now located in the Brutalist-style former St. Agnes Church, gallery-hop in the Schöneberg neighborhood, or wander the new Feuerle Collection housed in a WWII-era bunker. When you're not cruising art, go basement bowling at Tante Lisbeth or catch a performance of the Berliner Philharmoniker. And, of course, eat and drink to your heart's content: Dóttir is a modern Nordic seafood enclave, Lebensstern is a bar in an old Schöneberg mansion, and Panama is the latest from pioneering locavore Ludwig Cramer-Klett.
Once you've had your fill of the city, Schloss Elmau (from $569) is a sanctuary nestled in the Bavarian Alps only an hour-long flight away. It was built in 1916 by Johannes Müller as an artistic commune, and while the arts still rule (it hosts more than 200 cultural events a year, which are complimentary for guests), the extensive spa facilities are what beckon nowadays.
Hawaii
Honolulu + Maui
When you want the screen-saver beach experience on your honeymoon but can't stomach the time or money it takes to get to Fiji or Bali, Hawaii remains a destination par excellence with lots going on. You'll land in Honolulu, where the former Pacific Beach Hotel is about to reopen as the Alohilani Resort Waikiki Beach (from $239), with two restaurants by Iron Chef Masaharu Morimoto. Or there's the Surfjack (from $187), the modernist cool-kid space featuring work by local artists on the walls, plus James Beard – ­winning locavore chef Ed Kenney's Mahina & Sun's restaurant (try the kampachi crudo). Swim or boogie-board the beaches, like Lanikai and Makapu'u, on ­Oahu's windward side, then splurge on a sushi feast at longtime favorite Sasabune or newcomer Sushi Sho.
Your second stop is Maui, only a 30-minute flight away. This summer marks the opening of the Westin Nanea Ocean Villas (from $559) on North Ka'anapali Beach, with a farm-to-table restaurant that plucks veggies for its dishes from on-site gardens. Over on Maui's mellower eastern tip is Travaasa Hana (from $450 per couple), a hotel whose spa is a destination unto itself. The new Aloha Kai treatment includes a sea-salt exfoliation followed by a spirulina wrap. Snorkel the protected cove of Hana Bay to check out neon-striped butterfly fish, or buckle up for a glider flight above the Haleakala Crater.
Italy
Puglia + Tuscany
Italy is a honeymoon cliché for a reason, but it can be tough drawing up an itinerary to fill it all in. Max out on relaxation by starting at the southeasternmost tip of Puglia, with labyrinthine medieval towns and crowds that are far thinner than on the Amalfi Coast. Use the petite walled city of Lecce as your base; it's called the Florence of the South for its Baroque-era palaces and cathedrals. Check into one of only 16 rooms at La Fiermontina (from $267), a 17th-century building with a lovely terraced garden. Examine the ornate façades of the Basilica di Santa Croce and the Basilica di San Giovanni Battista del Rosario, but be sure to schedule time for beach hopping — about half an hour away there's Torre Sant'Andrea with its craggy rock arches, or the pine-tree-lined beaches of Baia dei Turchi.
By now you're probably thirsty, so make your way north by train or car (it's an eight-hour journey) up to the sunflower-strewn Tuscan countryside. In Montalcino, the 11 villas at Rosewood Castiglion del Bosco (from $625) are 17th-century farmhouses restored by Massimo and Chiara Ferragamo (yes, those Ferragamos). Or there is La Bandita Townhouse (from $316), a 12-room convent turned hotel with bright, contemporary interiors in Pienza. Wine is the major draw here, and there are plenty of wineries to sip at: the 900-year-old Barone Ricasoli estate, which is Italy's oldest; Podere Le Ripi, a tiny biodynamic winery owned by the Illy coffee family; and the elegant Castiglion del Bosco winery, which produces an excellent Brunello.
Jamaica
Blue Mountains + Negril
Why would you go to Jamaica and head inland, away from those beautiful beaches? Because, as a unesco designation for their kaleidoscopic biodiversity has just confirmed, there's plenty to see in the Blue Mountains. Just over an hour from the capital of Kingston and tucked away at an altitude of 3,100 feet, Chris Blackwell's Strawberry Hill (from $310) comes as a pleasant surprise. Rooms are whitewashed wood cottages with four-poster Colonial-style beds and terraces that provide knockout views of the hills and coffee farms below.
Once you've earned your beach fix, head to Negril (about a four-hour drive) on the far west coast and check into a minimalist room at Rockhouse (from $95); for prime oceanfront real estate and sunset-facing views, you might splurge on a thatched-roof villa. Wake up with the sun for yoga on the rocks, take a Caribbean-cooking class, enjoy a signature bathing-ritual treatment in the new cliffside holistic bath house, and feast on modern Jamaican specialties like synting seafood stew or stir-fried cho-cho and callaloo at the excellent on-site restaurants (where the consulting chef is from New York's Miss Lily's). The hotel also offers a digital detox by locking up your phone for 24 hours at a time so you can more deeply unplug. Of course, then you won't be able to take photos of that sparkling aquamarine water.
New Zealand
Northland + Queenstown
By virtue of its location (an 18-hour flight from New York), New Zealand already has off-the-grid appeal. The new Helena Bay Lodge (from $1,750, including meals), on the green Northland coast, takes that notion one step further: There are only five villa suites, each outfitted with fireplaces and handmade linens. Rooms come with binoculars so you can spot dolphins and whales from your terrace. Hike or bike the many trails on the 800-acre estate, where you might have to swerve around wandering alpacas. Or you could beach-hop, as the property has four private shores to choose from. The not so faint at heart can arrange an excursion with Dive! Tutukaka to the Poor Knights Islands, remarkable 11-million-year-old volcanic isles with the world's largest sea cave.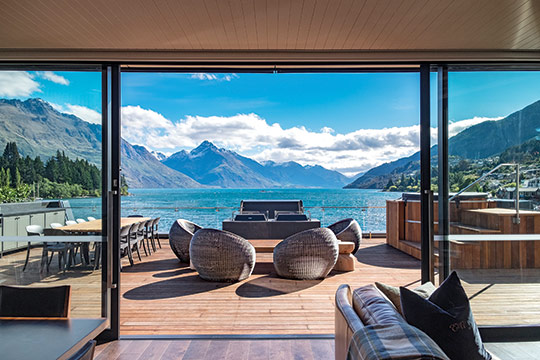 When you're ready for a scene change, take the three-hour flight to Queenstown. Check into one of the five lakefront suites at Eichardt's Private Hotel (from $1,555). If you visit in the southern hemisphere's winter (June to September), ski Queenstown's three premiere slopes; come summer, you could raft the local rapids or try the world's biggest canyon swing. The Queenstown area is also the planet's southernmost wine region, so you can hop among the wineries dotting the Central Otago. Try one of the two restaurants (Madam Woo or Rata) by Gordon Ramsay's protégé Josh Emett, a fan of local Bluff oysters and Wakanui sirloin. Or try the offerings from the kitchen garden at Amisfield Winery & Bistro from Noma alum Vaughan Mabee.
South Africa
Cape Town + Kruger National Park
In case you needed one more reason to finally make the trek to South Africa, here it is: the opening of the Zeitz Museum of Contemporary Art Africa in Cape Town this September. Housed in a restored 100,000-square-foot grain silo along the waterfront, it will be the largest museum to open on the continent in more than a century. Stay close by, literally; The Silo (from $897) will offer 28 modern suites and a rooftop pool above the museum's floors. You can hike or take a cable car up nearby Table Mountain. Visit the candy-colored houses of Bo-Kaap and follow the local foodies for a meal at Manna Epicure, Hemelhuijs, and The Shortmarket Club, the latest opening from chef Luke Dale-Roberts.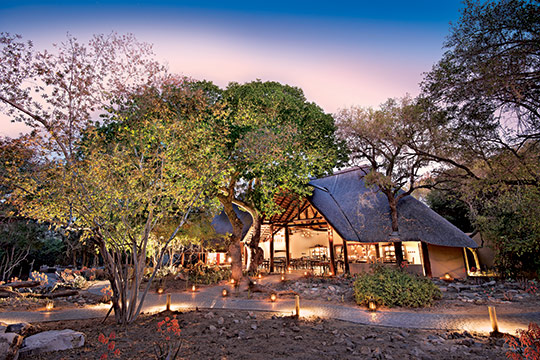 Then it's time to transfer to South Africa's northeastern corner (one daily flight on South African Airways has you there in under four hours) to search for the "big five" in Kruger National Park. Reopened last year after an extensive renovation is &Beyond Ngala Safari Lodge (from $547 per person); the 20 thatched-roof-cottage rooms now have outdoor showers and private verandas, and the new infinity pool looks out on a watering hole for animals. The Sabi Sabi Private Game Reserve (from $890 per person) has also overhauled the six luxury suites at Little Bush Camp. They're decked out with warm African textiles and have outdoor baths overlooking the Msuthlu River.
[an error occurred while processing this directive]