Welcome, Out-of-Towners
How to be a good host when your local reception is a destination wedding for many of your guests.
By Jackie Schneider
Published Winter 2007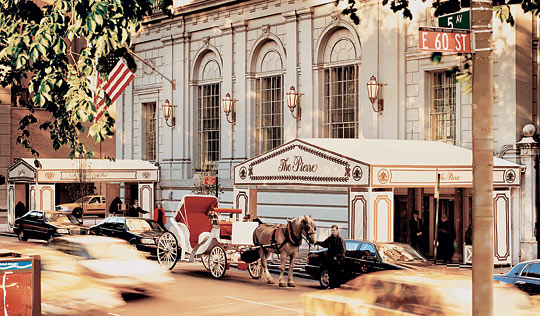 F irst things first: Where will they sleep? Reserving your guests' lodging is more than a gracious gesture—it's expected. Start the process as soon as you choose your reception venue. A block is usually a minimum of ten rooms per night, and "the rate will be higher than what you'd currently find online but will definitely be lower than a month before the wedding, when most guests will call to book their rooms," says planner Xochitl Gonzalez of Always a Bridesmaid. Look for three hotels in the vicinity of your reception site. Don't let the criteria of convenience and budget overshadow taste—Hotel on Rivington's graffitied neighborhood may not be for everyone. Choose one hotel in each of three price ranges: $150 to $250 per night; $250 to $350; and $400 and up. (Planner Loulie Walker suggests trying alum institutions like the Yale Club and the Harvard Club for competitive rates.) If you're marrying in New York's high-season (September and October) be prepared: "Most hotels don't offer group blocks in those months, and when they do, they often require an 85-percent guarantee," says Gonzalez. Negotiate that clause out of the contract, as it means you're promising a certain amount of revenue even if you don't fill the rooms. When all is said and blocked, print the list of hotels as well as the date prior to which guests need to make reservations on your save-the-date card. Pop these in the mail up to six months in advance (nine months if your wedding is over a holiday). Usually guests pay for their accommodations, but if you want to pick up someone's tab, make it clear to the front desk that you're covering the room, not incidentals, lest a steep bill of late-night mini-bar raids and in-room tomfoolery land in your newlywed lap.