Outward Bound
By Celia Ellenberg
Published Summer 2008
WAVE HILL
W. 249th St. and Independence Ave., the Bronx; 718-549-3200; wavehill.org
Cost: Annual membership fee of $5,000 (which is tax-deductible), plus additional site fee of $1,500.
Capacity: 180 seated and served; 150 seated and served with a dance floor.
Built in 1843 in the style of an English country residence, this estate house sits on 28 acres of manicured grounds and has been home to both Samuel Clemens and Theodore Roosevelt. Ceremonies can take place under the pergola overlooking the Hudson, with dinner and dancing moving to Armor Hall, which has a large terrace for cocktails.

QUEENS COUNTY FARM MUSEUM
7350 Little Neck Pkwy, Floral Park; 718-347-3276; queensfarm.org
Cost: $1,700 for the combined barn and north lawn; $500 for the pavilion; $2,000 for the orchard.
Capacity: 344 for barn and north lawn; 85 for pavilion; 1,000 for the orchard.
A working farm (in Queens!), this country museum/event space sits on 47 acres of land and still produces fruit and vegetables (on sale in the gift shop). The vast North Lawn and Orchard offer a sprawling landscape to pitch a tent while the open-air pavilion and barn are more intimate locations. Two peacocks and a flock of free-range chickens roam the property and are likely to make a surprise appearance on your guest list.

PLEASANTDALE CHATEAU AND CONFERENCE RESORT
757 Eagle Rock Ave., West Orange, N.J.; 973-731-5600; pleasantdale.com
Cost: All-inclusive per person price upon request; guest rooms from $169.
Capacity: 350 people seated and served, with a dance floor.
On the 42 acres of grounds at this Norman-style chateau, ceremony locations are endless, albeit seasonal – stellar fall foliage makes October the most popular month here, although an award winning, tri-colored tulip garden is a destination spot for summer ceremonies. Receptions are held under the domed-ceiling of the Grand Ballroom which is what Lisa Spoonauer, director of sales and catering, says generally sells the location to brides-to-be. "In Malibu, you pitch tents [for receptions]. Here, you won't want to."

OLD WESTBURY GARDENS
71 Old Westbury Rd., Old Westbury, N.Y.; 516-333-0048; oldwestburygardens.org
Cost: $2,000 location fee for the gardens, which includes chair and tent rentals; manor price upon request.
Capacity: 50 to 150 at the gardens; 150 to 275 at the manor.
As a wedding present to his homesick bride, American financier John S. Phipps designed this Charles II–style country house and its 160-acres of gardens to remind her of her native England. After opening the Wall Garden with its central fountain and wisteria-covered pergola for ceremonies last year, the estate plans to be reception-ready by the end of 2008. In the meantime, the Victorian banquet rooms and gardens at the Westbury Manor, a five-minute drive away, maintain the ambiance for cocktails, dinner, and dancing.

OHEKA CASTLE
135 West Gate Dr., Huntington, N.Y.; 631-659-1400; oheka.com
Cost: $7,000 to 12,000 location fee, and $200 to $500 per head. Buyout rate for all 32 rooms, from $6,500.
Capacity: 400 people.
The second largest private home in America, this 32-bedroom, French-inspired castle sits on 22.1 acres and boasts a formal garden with eight reflecting pools, three fountains, and a marble gazebo—the perfect backdrop for any ceremony. There is a noise ordinance on weekdays so couples generally choose to do their receptions in the glass-enclosed terrace but with a buyout option to takeover the entire castle, late-night racket indoors is perfectly acceptable.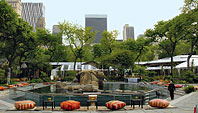 CROSSED KEYS INN
289 Pequest Rd., Andover, N.J.; 973-829-9922; crossedkeys.com
Cost: $125 per person with on-site caterers; $1,800 location fee for the grounds, playhouse, ceremony, and rentals. Guest rooms from $135.
Capacity: 150 to 225 people.
"We are rustic elegance," says on-site wedding coordinator Katherine Rodriguez of this updated country farmhouse on fourteen beautifully landscaped acres of a 200-year-old property. Ceremonies are usually held in an English garden with more than 150 dahlias followed by cocktails on a bluestone terrace and a tented reception overlooking the meadows and mountain landscape. Doubling as a B&B, there are five rooms available for rental as well as the "playhouse" lounge where Groucho Marx, Charlie Chaplin, and Mae West did their after-partying.

ALBA VINEYARD
269 Route 627, Village of Finesville Milford, N.J.; 908-995-7800; albavineyard.com
Cost: $1,000 grounds location fee; $500 Barrel Room location fee.
Capacity: Up to 1,000 people; up to 40 people in the Barrel Room.
With what employees describe as New Jersey's own Stonehenge, the "wedding rocks" here—a huge brownish three-quarter circle of limestone boulders—usually play host to ceremonies with a view of the Delaware River Valley and the winery's 93.5-acre vineyard. A lower plateau provides an ideal location for a reception tent, with the same spectacular views. While the 206-year-old barn-cum-winery is not for rent, the more intimate Barrel Room, which houses a local artists' gallery, can be a part of your event.
THE HAMPTON BAKER ESTATE
92 Red Creek Rd., Hampton Bays N.Y.; 631-748-7223; hamptonbakerestate.com
Cost: $15,000 location fee, which includes the house and use of the grounds.
Capacity: 150 to 200 people.
You get the best of all worlds with the 4.5-acres of lush, landscaped grounds and private beach offered at this seven-room estate (oh, and there's a pool too). Ceremonies can be held on the beach, on the grounds, in the house … pretty much wherever you want considering that the entire property is yours for the extent of your event.