Fifteen Great Ideas
Give your guests something to talk about other than your dress.
By Arielle Winnik
Published Winter 2008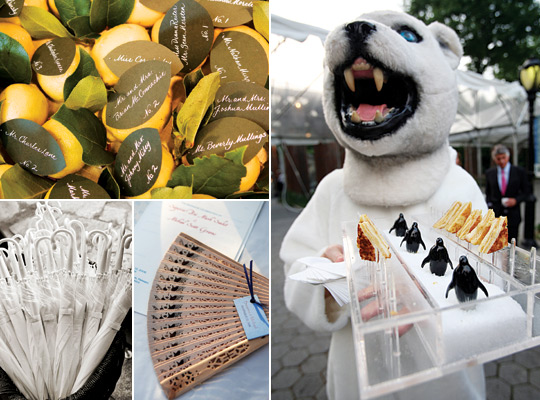 1. Bypass boring paper goods.
The party starts in the mailbox! Set the tone with a fun save-the-date, like goofy-cute photo booth shots. "Either visit a photo booth or take digital pictures and we'll make them look like they were taken in one," says Nicole Michels, of stationer Bird and Banner ($1,500 for 100 from Bird and Banner; 215-285-8055; birdandbanner.com). Even a more traditional idea can look new. Rebecca Schmidt-Ruebensaal, of Mr. Boddington's Studio, combined one couple's family crests and modernized them with neon colors ($3,000 for 100 sets from Mr. Boddington's Studio; 212-686-5953; mrboddington.com). And even escort cards can be cool. For a reception at the New York Public Library, Ellen Kostman of SideKick Events put place cards in an old-fashioned card catalog, complete with Dewey Decimal System-style table numbering (card catalog, from $75 at Props for Today; 212-244-9600; propsfortoday.com), and Fête event designer Jung Lee once pinned paper 'leaf' cards to a pile of lemons.
2. Be gracious hosts.
Keep guests cool, warm or dry. "Our wedding was outdoors, and it was very hot," says newlywed Suzanne Graves. "For the ceremony, we placed a fan on each chair alongside the program. Guests fanned themselves the entire night (from $1 for paper fans at Pearl River Mart; 212-431-4770; pearlriver.com)." For an early spring reception, planner Kostman got $3 pashminas from a city street vendor to keep ladies (and some gents) warm. If it looks like rain, order umbrellas in your wedding colors; they'll double as favors ($180 for 60; candrelite.com).
3. Have a greener wedding.
Floral bouquets are pretty, but a modern option is to make one from herbs. Event designer David Beahm uses holy basil, rosemary, scented geranium, horehound, orange and chocolate mint, and silver mound artemisia in coleus leaves ($100; 212-279-1344; davidbeahm.com). And, rather than a tacky, stiff velvet square, "Do a natural ring pillow instead," suggests floral designer Bridget Vizoso. "In winter, use pinecones, twigs, birch bark, and barley grass pods (from $175 at The Designer's Co-op; 212-721-2188; thedesignersco-op.com)."