THE RECEPTION GUIDE
Fête Accompli
Manhattan's premier event planners create sixteen unique wedding receptions for four different budgets. Plus, suggestions for your rehearsal dinner and brunch.
Illustration by James Taylor
Most couples, regardless of their resources, have a certain price point in mind when planning their wedding. And it is only a rare few who can claim to never have worried about whether the bottom line will impair their style. But the fact is that a fabulous affair can be planned on virtually any budget, provided you're willing to use a little imagination. That's why we turned to some of our favorite wedding planners for help. We gave them each four approximate budgets-low (up to $25,000), medium ($30,000 to $60,000), high ($75,000 to $150,000), and blowout (sky's the limit)-and a different type of couple for whom to plan. For our first couple, the Traditionalists, we asked the Wedding Library's ever-elegant Claudia Hanlin and Jennifer Zabinski to create blueprints for four classic affairs with all the time-honored trimmings. We paired our second couple, the Romantics, with Bronson van Wyck (one half of the fantastic mother-son team Van Wyck & Van Wyck) and asked him to plan for a couple enamored of natural beauty, low-key gatherings, and all things antique. Next, we called upon the endlessly innovative Jung Lee of Fête to plan for the couple we've christened the Bon Vivants: Lovers of swing and the roaring twenties, these style-setters eschew frills in favor of clever ideas and retro design. Finally, for our last couple, the Mavericks, we asked the indomitable Marcy Blum to come up with untraditional concepts perfect for the pair who would rather call the whole thing off than follow convention. Whatever your vision for the big day, whatever your budget, we know this much is true: The pages that follow are sure to inspire you.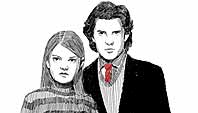 The Traditionalists
The Romantics
The Mavericks
The Bon Vivants
Join the Discussion
Recent Comments On This Article