Get Some Air
[an error occurred while processing this directive]
Gardens:
Glenmere Mansion
Forget the eight-hour flight to Italy. This impeccably preserved 1911 Italianate, Gilded Age villa is the Hudson Valley's love letter to Tivoli's Villa d'Este. Set among 150 acres of majestic countryside expanse, the 35,000-square-foot Relais & Châteaux–endorsed mansion can host up to 375 guests in various alfresco locations—from a two-acre grass meadow surrounded by pine trees to a formal fountain-and-garden area with a grand terrace overlooking serene Glenmere Lake. Naturally, la dolce vita does not come cheap: A weekend property buyout ($60,000) is required for parties of more than 100, and an average reception costs upward of $100,000. The more wallet-friendly alternative ($10,000) is to host a Sunday wedding with 90 guests or less after 3 p.m. 634 Pine Hill Rd., Chester, N.Y.; 845-469-1900; glenmeremansion.com.
High Line
If your aim is to capture the spirit and pulse of the city, it's hard to do better than the High Line. Start by renting the Diller–von Furstenberg Sundeck for cocktail hour. The sunset views along the Hudson are terrific, and there's ample room for guests to mingle post-ceremony. For dinner, consider one of two options, which conveniently flank either side of the deck. One is the 5,900-square-foot Chelsea Market Passage (it's where Tommy Hilfiger held his spring 2012 runway show), which features Spencer Finch's glass installation The River That Flows Both Ways. It seats 350 (24-hour site rental starts at $60,000). For smaller groups, the industrial-hewn 4,000-square-foot 14th Street Passage seats up to 100 (site rental starts at $24,000). You must coordinate reservations through Friends of the High Line's private partner, the Skylight Group. Gansevoort St. to 34th St., along 10th Avenue; 212-736-6200; skylightnyc.com.
Innisfree Garden
Designed around a 40-acre glacial lake, this American stroll garden less than two hours from Manhattan incorporates classical Chinese- and Japanese-design elements amid indigenous plants, rocks, water lotuses, and smoke trees. Larger receptions are staged on the hill overlooking the lake and main garden, while several intimate nooks scattered around the lake are well suited for parties of fewer than 50 guests. Note that offsite, indoor backup plans are crucial because tenting is not permitted on certain parts of the property. The garden is exclusively yours for the day, for a site fee starting at $10,000 (75 percent of which is tax deductible). 362 Tyrrel Rd., Millbrook, N.Y.; 845-677-8000; innisfreegarden.org.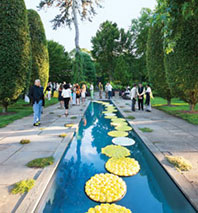 Longhouse Reserve
Tucked away on a quiet road in East Hampton, this 16-acre world-class sculpture garden evokes the dramatic art-meets-nature landscape of Storm King Art Center, but on a more intimate scale. Renting out the entire property for the day is required, but it grants you full access to the space with an easy progression from one picturesque backdrop to another. Ceremonies are typically held on Hornbeam Allée—an area lined with hornbeam birch trees—and followed by a Champagne toast near the stone bridges. Receptions are on the First Lawn, a large tract of grass that can easily accommodate a spacious tent. Nights usually end around the fire pit on the amphitheater's grassy knoll. Smaller weddings for up to 75 are the norm, but once a summer, one bigger party for 250 is permitted. So book early. Site rental fees range from $10,000 to $35,000, of which 75 percent is tax deductible. 133 Hands Creek Rd., East Hampton, N.Y.; 631-329-3568; longhouse.org.
Parrish Art Museum
After years of financial setbacks, this beloved East End art museum finally reopened last November in a new barn-inspired Herzog & de Meuron–designed structure. The galleries are the main draw, of course, but event planners are buzzing about the sweeping 5,800- square-foot wraparound Mildred C. Brinn Terrace that overlooks the adjacent Duck Walk Vineyards. The sunsets here are spectacular. If you need a hand in the inspiration department, call on local planners Colin Cowie or Claire Bean, who can turn the 1,000-square-foot terrace, which accommodates up to 330 guests for dinner and dancing, into a summer dreamscape. Site fees range from $5,000 to $7,500 for four-hour events. There's an additional required contribution of $5,000 for the use of the museum's lobby, galleries or terrace; $1,000 for the theater. 279 Montauk Hwy., Water Mill, N.Y.; 631-283-2118; parrishart.org.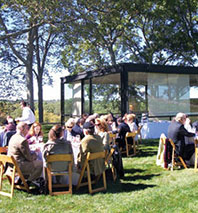 Philip Johnson Glass House
The grounds surrounding Philip Johnson's modern glass marvel, affectionately referred to as his "50-year diary," were a decades-long labor of love between the architect and his partner of 45 years, David Whitney. This summer, for the first time, the museum is permitting weddings on the property with accommodations for 35 to 50 guests ($10,000 and $25,000 tax-deductible donations, respectively). The less-expensive option (35 guests for $10,000) is for weekday-only weddings. The swankier package includes full access to the grounds any day of the week from 9 a.m.–8 p.m. and includes a private tour of the Painting and Sculpture Galleries, Studio Library, and Da Monsta, an exhibition space on the grounds. 199 Elm St., New Canaan, Conn.; 203-594-9884; philipjohnsonglasshouse.org.
Wave Hill
Located nine miles north of Manhattan, and perched high above the Hudson River, Wave Hill was once a country home to Theodore Roosevelt and, later, the private residence of Mark Twain. Its 28 acres of extravagant gardens and lawns give way to arresting views of the river and beyond. Receptions take full advantage of the scenery: Dinner for up to 125 guests can be served on the tented terrace of the historic Wave Hill House, while the ceremony and cocktail hour are held on the broad lawn in front of the lushly planted pergola overlooking the water. All weddings start after 6 p.m., when the gardens close to the public. Fees range from $45,000 to $65,000, including site fee and catering. 675 W. 249th St., Bronx; 718-549-3200; wavehill.org.
[an error occurred while processing this directive]