Tiny, Big, Bigger
From a 60-guest Brooklyn cabin to a massive Gilded Age bank, reception spots for affairs both intimate and less so.
Tiny
Bouley Test Kitchen & Bouley Botanical (above)
Neighborhood: Tribeca
Capacity: 60
Nearly a decade ago, chef David Bouley built a full-fledged test kitchen for his team to devise and experiment with new recipe concepts. The 2,500-square-foot open-floor loft—consisting of a lounge area for the Champagne reception, an open kitchen where guests can mingle and watch meal preparation, and an adjacent dining area—serves as a prime setting for die-hard gourmands to craft the celebratory meal of their dreams. After getting hitched nearby at City Hall or at Bouley Botanical ($1,500 rental fee)—a separate, raw event space where the chef grows many of his plants and herbs—guests can retreat to the fifth-floor hideaway, which feels as much like an artist's studio a working kitchen.
The rental fee, which includes the setup and breakdown of the space, culinary labor, seasonal flowers, candles, tables, chairs, and linen, is $2,500. The meal itself is $175 or $200 per person for a three- or four-course meal, respectively, with wine pairings ranging from $95 to $105 per person. Uncompromising foodies can even enlist Chef Bouley to personally cook the dinner (starting at $5,000). Kitchen, 88 W. Broadway, nr. Chambers St. Botanical, 281 Church St., at White St.; 917-237-3205; davidbouley.com.
Urban Cowboy B&B
Neighborhood: Williamsburg
Capacity: 60
Last spring, real-estate developer Lyon Porter took over a nondescript Williamsburg townhome and—with help from interior designer Renee Mee—turned it into a woodsy B&B straight out of your cabin-porn fantasies. The Adirondacks–meets–­Southwestern Aztec parlor (the main-floor communal space, which consists of a loft-style living room with open kitchen) works as a casual wedding spot for up to 60 guests, and that number can double if the adjacent outdoor patio is tented (and heated) for winter revelry. The setup for ceremony and reception is completely flexible. The two spaces are essentially blank canvases, and Porter grants virtual carte blanche to decorate.
A $10,000 buyout gives you full use of the property, including the main brownstone house and separate cabin (a total of five bedrooms), for two days and two nights. All catering needs to be brought in separately. 111 Powers St., nr. Manhattan Ave., Williamsburg; 303-903-2237; urbancowboybnb.com.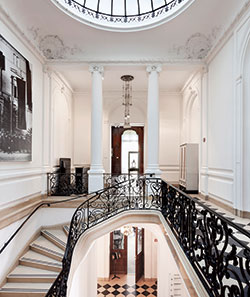 Neue Galerie
Neighborhood: Upper East Side
Capacity: 60
While this elegant Upper East Side museum devoted to German and Austrian early-20th-century art doesn't permit ceremonies of any kind, couples are welcome to meet in the marble foyer of the Beaux-Arts mansion for canapés and cocktail hour (from $55 per person) afterward. Guests can sneak upstairs and have the rooms of Klimts and Schieles to themselves before heading into Café Sabarsky for dinner and live music. While D.J.'s are not permitted for insurance reasons, many couples enlist cabaret acts like Steve Ross and Sanda Weigl for entertainment. The traditional Viennese-style café can host up to 60 for a sit-down dinner. A three-course supper ($165 per person) comes courtesy of Michelin-starred chef Kurt Gutenbrunner, who delivers hearty staples such as spaetzle with braised rabbit and chanterelle mushrooms, beef goulash, and housemade Viennese hot chocolate.
Hosting a wedding at the museum is considered a privilege of membership and entails a contribution of $10,000 for dinner in Café Sabarsky. Given the museum's nonprofit status, $9,090 of the contribution is tax-deductible. 1048 Fifth Ave., at 86th St.; 212-352-2300; neuegalerie.org.
Sky Gallery
Neighborhood: Gowanus
Capacity: 65
From the team behind Gowanus wedding go-tos the Green Building and 501 Union comes a smaller, more minimalist space: a gallery geared toward arty couples who envision, say, a daytime lunch reception and Champagne with up to 65 of their closest friends and family. Aside from the rotating wall art from emerging artists like Steel Stillman and Thomas Kovachevich, the 1,600-square-foot indoor venue is bare, with exposed white brick walls, finished concrete floors, natural light streaming through multiple skylights, and 15-foot glass doors that open onto a 1,400-square-foot private sculpture garden. Ceremonies and cocktails are usually held outdoors (which can be tented and heated during wintertime), followed by an indoor reception. Conveniently, all needs can be organized in-house via catering arm Purslane and event-design adjunct Starling on Bond (though there is no obligation and couples may bring in outside vendors).

$2,000 for an eight-hour block and $2,500 for a 12-hour block. Rental blocks must include setup and breakdown. 460 Union St., nr. Bond St., Gowanus; 347-529-6486; skygallerynyc.com.
Norwood
Neighborhood: Chelsea
Capacity: 65
As a private club and regular hangout for creative mover-and-shaker types, Norwood is normally off-­limits to the hoi polloi. But you can conveniently skirt the system by taking over various floors of the five-story townhouse. The novelty of the venue lies in the eclectic décor (red plush couches, antique Oriental rugs, wingback chairs, and conversation starters like an "I Fucking Love You" painting) and the completely different layouts on every floor. A nice way to showcase each is to work your way from top to bottom after enjoying cocktails on the main floor. A sample setup: formal ceremony in the fourth-floor screening room (which can hold up to 65 people, seated); cocktails and hors d'oeuvre in the third-floor salon (complete with bar and D.J. booth); and a sit-down dinner in the plush, Moulin Rouge–esque restaurant on the second floor (which can also hold 65 guests).
Rooms are priced à la carte and range from $500 to $1,500 for members and $1,000 to $3,000 for nonmembers. Additionally, miscellaneous expenses such as production fees range from $100 to $500 per floor. 241 W. 14th St., nr. Eighth Ave.; 212-255-9300; norwoodclub.com.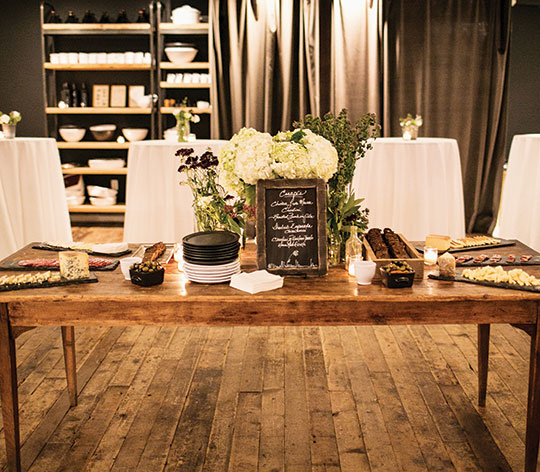 Haven's Kitchen
Neighborhood: Union Square
Capacity: 90
Located two blocks from the Union Square Greenmarket, Haven's Kitchen­—a recreational cooking school headed up by Per Se alum David Mawhinney—is a three-story, exposed-­white-brick-walled, turn-of-the-last-century carriage house that's perfect for the bride and groom who want their wedding to feel like a private supper club. Couples can tie the knot with up to 90 of their nearest and dearest on the third floor, a modest 2,200-square-foot whitewashed room with ample daylight, which can later be flipped for a reception with a seated 80-person dinner (of farm-to-table fare, naturally). Cocktail hour can take place on the second floor, which features a small living room and bar. An adjacent dining room, outfitted with rustic-modern touches like Tolix and Bertoia chairs and reclaimed-wood farm tables, can be set up with hors d'oeuvre stations.

Venue rental ranges from $3,000 to $5,500 (and includes access to furniture and tableware). A three-course family-style dinner with cocktail-hour nibbles beforehand starts at $140 per person; beverages start at $38 per person. 109 W. 17th St., nr. Sixth Ave.; 212-929-7900; havenskitchen.com.
Big
Kinfolk 94
Neighborhood: Williamsburg
Capacity: 200
Peek past the storefront displays of menswear and accessories from up-and-coming designers at the Kinfolk Store and you'll encounter a bar and art gallery that doubles as a quirky wedding spot. Two of Kinfolk's founders, Ryan Carney and Maceo NcNeff, conceived of the space under the guidance of BergDesign Architecture, using plywood, Douglas fir, and Western red cedar to create a Pacific Northwest–inspired geodesic dome with a sizable bar. The vast 1,700-square-foot space can accommodate up to 200 guests, with he ceremony held in the open, lofted side of the room and the reception in the alcoves of the bar.

Full-day space rental ranges from $15,000 to $25,000. There are no restrictions on outside vendors.\94 Wythe Ave., at N. 11th St., Williamsburg; 347-799-2946; kinfolklife.com.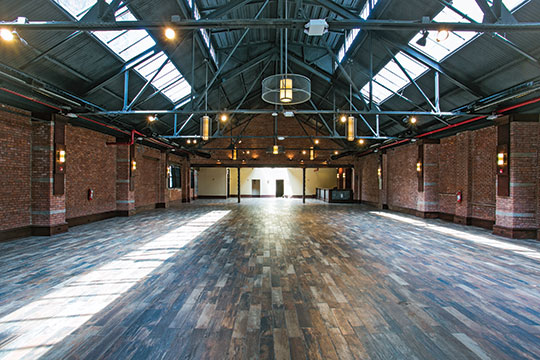 26 Bridge
Neighborhood: Vinegar Hill
Capacity: 240
On a quaint, cobblestoned side street in Vinegar Hill, the team behind Brooklyn's Greenpoint Loft and W Loft has transformed a turn-of-the-last-century metal foundry into a fully modernized event space that can fit up to 240 guests. The original brick bones were left intact and exposed steel beams have been added overhead in the main room—a 5,050-square-foot open-floor plan with a built-in bar—along with spare track lighting and sconces to soften the vibe. Because the room is one large open area (with ceiling pitches of up to 30 feet), partitions need to be brought in—or a room flip would need to take place—for couples wishing to hold both the ceremony and reception on-site. As with its sister venues, the logistics are very relaxed, and there are no restrictions on caterers—though Vinegar Hill House down the block would be a wise choice.
Space rental ranges from $7,500 to $10,000 per day. 26 Bridge St., nr. Plymouth St., Vinegar Hill; 718-310-3040; 26bridge.com.
The High Line Hotel
Neighborhood: Chelsea
Capacity: 300
Grand but not flashy is the vibe at the High Line Hotel, a historic mid-1800s landmark whose secluded, off-the-beaten-path nook in far-west Chelsea makes it feel very removed from the hubbub of the city. The hotel's stately, high-ceilinged Gothic refectory—it's very Hogwarts—can hold up to 225 for a seated reception with a dance floor (or 300 for one without). Parties frequently utilize the private garden park and outdoor lawns during the warmer months (for either ceremony or cocktail hour), but the refectory comfortably does double duty during winter. Roman and Williams–outfitted rooms and an Intelligentsia coffee bar on-site provide a good excuse for guests to make a mini-staycation of it for the weekend.
Depending on the day, space rental ranges from $10,000 to $15,000 (with an 80-person minimum) and food-and-beverage packages range from $225 to $275 per person. 180 Tenth Ave., at 20th St.; 212-929-3888; thehighlinehotel.com.
Rainbow Room
Neighborhood: Midtown
Capacity: 300
The iconic (and recently landmarked) 4,400-square-foot Rainbow Room has reopened at long last after a landlord-­tenant dispute drove out the Cipriani family. Under new management by the team from Rockefeller Center, the storied 65th-floor venue can host up to 250 guests for dinner and cavorting on its signature rotating wood dance floor (which can be converted to hold as many as 300 guests with an additional wood covering) against an unobstructed backdrop of the city below. The physical layout of the space remains unchanged, but architecture firm Gabellini Sheppard gave the interiors a serious makeover awash in pale-gray and other muted tones inspired by the deck of a luxury liner and nodding to the building's Art Deco style. Many of the original decorative touches—the glass globes on the railings, the wall sconces—have been preserved.
$400 per person with a 200-person minimum (or an $80,000 food-and-beverage minimum) for a Saturday night, or $350 per person with a 150-person minimum for a Friday night. The package covers venue space and five hours of service, including a three-course dinner, drinks, and a wedding cake. A separate planner is required for all décor and logistical arrangements. 30 Rockefeller Plz., at 50th St.; 212-632-5000; rainbowroom.com.
Pioneer Works
Neighborhood: Red Hook
Capacity: 400
Red Hook–based artist Dustin Yellin took over the old Pioneer Ironworks complex in 2011 and converted the massive former factory into a nonprofit hive for emerging contemporary artists. There are three stories, but events take place only on the ground floor—the Cathedral Hall is a minimalist rectangular space with 37-foot-high ceilings and a double row of windows that can comfortably accommodate 300 for a seated dinner. Ceremonies can also be set up in the adjacent North Hall, a simple square-shaped gallery room. Alternatively, when weather permits, the 20,000-square-foot garden—teeming with tulips in the spring, rhododendrons in the summer, and ornamental trees year-round—is ideal for larger, standing outdoor ceremonies of up to 400.
During peak season, venue rental runs to $10,000 on weeknights and $15,000 on weekends. Off-peak rates (from December to April and August) range between $11,000 and $13,000. While the venue has some lighting and audio equipment available, everything else needs to be brought in. 159 Pioneer St., at Imlay St., Red Hook; 718-596-3001; pioneerworks.org.
Park Hyatt New York
Neighborhood: Midtown
Capacity: 450
The Park Hyatt, which opened this summer, spans the first 25 floors of midtown's much-ballyhooed 90-story residential high-rise, One57. International design gurus George Yabu and Glenn Pushelberg (they of Barneys, Bergdorf, and Jean Georges fame) were tasked with crafting the interiors and turned the second floor's 3,100-square-foot main space—known as the Onyx Room—into a stately area with warm, back-lit white-onyx walls. Sam Hazen, former executive chef at Veritas, is handling the food program here, so expect seasonal American fare. The space can hold up to 220 for a seated dinner or 450 for a standing reception; large parties will want to utilize the 1,050-square-foot adjacent outdoor terrace (when weather permits) and pre-function space for cocktail hour, while the Onyx Room is "turned" from ceremony to reception.
Pricing starts at $300 per person, with a $60,000 food-and-beverage minimum. 153 W. 57th St., nr. Seventh Ave.; 646-774-1234; parkhyattnewyork.com
Queens Museum
Neighborhood: Flushing
Capacity: 600
Weddings at the Queens Museum—fresh off a two-and-a-half-year, $69 million face-lift and expansion by Grimshaw Architects—maximize the grand layout of the airy main atrium; cocktails are held in two galleries on the second floor, whose large windows look out onto the Unisphere (a relic from the 1964 World's Fair and nice backdrop for photos). Receptions take place on the main floor, in a sunken pavilion enveloped by an enormous glazed-glass skylight. Up to 600 guests can sneak away to ogle the famed "Panorama" exhibit, a 1:1,200-inch representation of all five boroughs, as well as other exhibitions of contemporary art that are open for private viewing during the event.
The wedding package, which starts at $165 per person, is organized exclusively by Amerivents Catering and includes the venue cost, hors d'oeuvre, a three-course meal, and furniture and tableware. Flushing Meadows–Corona Park, 49th Ave. at 111th St.; 646-673-8814; queensmuseum.org.
Bigger
Weylin B. Seymour's
Neighborhood: Williamsburg
Capacity: 1,000
The 1875-era Williamsburgh Savings Bank building recently underwent a three-year-long restoration of its original hand-cut mosaic marble floors, birdcage elevator, and resplendent 110-foot dome, which is adorned with a fresco by 19th-­century designer Peter B. Wight. The most popular setup begins with a ceremony in the Oculus Dome room—which features a leaded-glass skylight and a coffered ceiling shimmering with gold-leafed flowers—followed by a cocktail reception in the downstairs gallery and then dinner and dancing in the main room. Depending on the size of the group (the venue can accommodate up to 1,000), either the larger main space will be set up to handle all festivities or the Oculus Dome room transformed into a dance area and lounge space.
A signature wedding package begins at $320 per person and includes a customized menu from its exclusive caterer, premium open bar, service staff, a private bridal suite, and a comprehensive rental package from Party Rental, Ltd. 175 Broadway, at Driggs Ave., Williamsburg; 718-963-3639; weylinbseymours.com.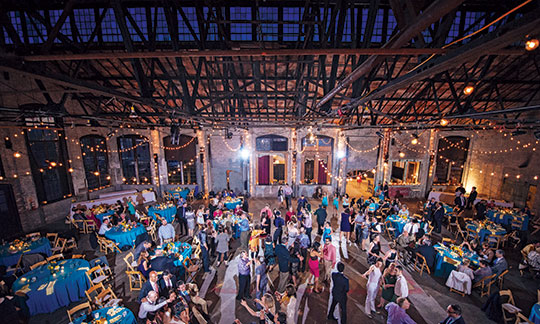 Basilica Hudson
Town: Hudson, N.Y.
Capacity: 1,500
In 2011, Melissa Auf Der Maur (Hole's ex–bass player) and her husband, the filmmaker Tony Stone, transformed this 12,000-square-foot abandoned glue factory into a multipurpose gallery, music venue, and event space as a way to bring together the thriving arts community of Hudson, New York. Events take place in the industrial Forge and Foundry Building, adorned with painted brick walls and steel-truss overhangs. The capacity is 1,500, and the space has seen celebrations ranging from informal dance soirées (preceded by standing ceremonies) to more formal affairs in the North Hall (which can hold 200 people) and the Main Hall (which can accommodate 250 guests).
The venue does not have heating or air-conditioning (thought it can be arranged for via a vendor); rental fees are $11,000 for the peak months of September and October and $9,500 for off-peak months. 110 S. Front St., Hudson, N.Y.; 518-822-1050; basilicahudson.com.