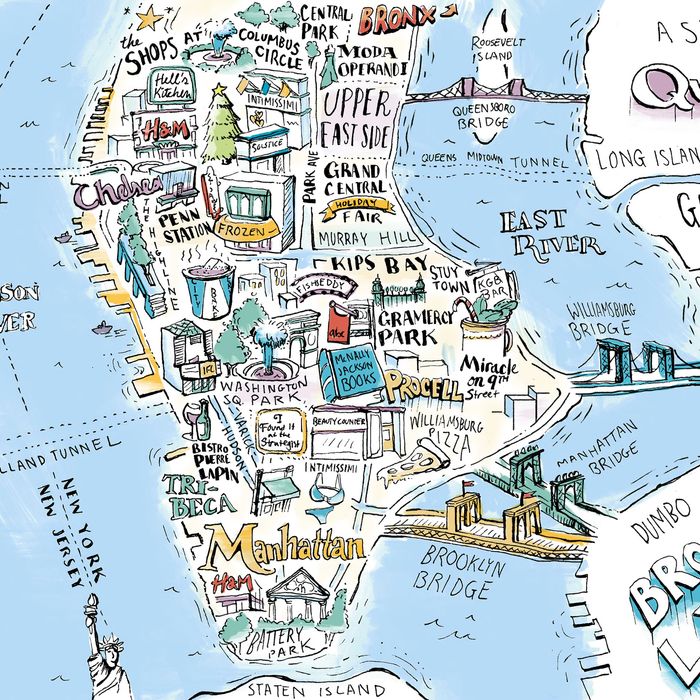 Illustration: Russell Shaw
Based solely on the number of holiday movies set in New York, you'd think that all of us spend our Decembers dancing around The Tree and kicking in a chorus line, surrounded by toy-soldier cohorts. But, of course, there are endless ways to get into the holiday spirit — splashy and small alike — whether you're into the more traditional methods or not. For ideas on how to make the most of this fleeting season, we asked a few staff members, along with other New Yorkers we admire, their favorite places to eat, gather, shop, and celebrate while bundled up and surrounded by twinkling lights.
Hawa Hassan
Founder of Basbaas
After 14 years working as a model, Hassan created Basbaas sauce, a spicy relish that features flavors from Somali cooking and is named after the Somali word for chili. Born in Somalia, Hassan was discovered in Seattle at a young age. Now, she lives in New York, where you can find her running across the Brooklyn Bridge or scoping out the green market.
Click the red stars for Hassan's picks.
Katie O'Donnell
Branded content editor at New York Stories
As an editor who works mostly on fashion content, it's not all that surprising that O'Donnell enjoys gift shopping more than most. "I'm streamlining things this year by ordering a lot online, but I still really love handpicking presents in-store." On her holiday hit list: a mix of independent shops and bigger fashion boutiques, nostalgic comfort dining, and Metro-North.
Click the red stars for O'Donnell's picks.
Julia Grossman
Beverage director, pastry chef at Bistro Pierre Lapin
When Grossman's not at the French-inspired West Village bistro she owns with fiancé and chef Harold Moore this season, she'll be preparing an at-home feast or obsessing over beautiful wrapping. "The holidays should be super-festive and a little extravagant," she says. And while her M.O. is quality over quantity, one of her favorite gifts is a (reasonable) case of champagne.
Click the red stars for Grossman's picks.
Indya Brown
Fashion partnerships editor at the Cut
"I dread the drawn-out days of winter," says Brown, "so I look to all of the jovial little things that come with the holidays as a beacon — sipping hot chocolate, looking at department store windows, going to cool parties." But the Cut editor's biggest priority? "Watching all of the cheesy Christmas movies on TV," she says. Because an easy happy ending gets everyone in the holiday mood.
Click the red stars for Brown's picks.
Valentin Pertsov
Senior audience development manager at New York Stories
"I tend to get annoyed with too much holiday cheer — Rudolph? I don't know her — so I love spots that feel festive without being too obvious about it," says Pertsov, one of our social media pros. His route delivers on the not-so-precious theme, with fun fashion stops, a colorful Thai restaurant, and an arty film mainstay.
Click the red stars for Pertsov's picks.
Jessica Gonsalves
Co-owner of Procell
Gonsalves and her husband, Brian Procell, run the definitively downtown vintage shop Procell. "Come for the vibe, the friendly staff, and the eye candy," says Gonsalves. "You can walk in and find something you didn't know existed," she adds of the Lower East Side destination. And this month, you can find stellar gifts at Sandy Liang's holiday pop-up in their space next door.
Click the red stars for Gonsalves' picks.
Ryan Carlos
Video producer at New York Stories
"A lot of my day to day is spent coming up with creative video ideas," says Carlos, "so naturally there's a film-related stop on my map." As for the rest, a high-wattage Indian restaurant feels as festive as more cliché holiday traps, while a Christmas-themed bar is unapologetically on the nose. Plus: a wintry Broadway moment and Instagram-famous hot cocoa.
Click the red stars for Carlos' picks.
Created in partnership with Beautycounter, Frozen on Broadway, H&M, Intimissimi, Moda Operandi Madison, The Shops at Columbus Circle, and Solstice Sunglasses.
This is paid content produced for an advertiser by New York Brand Studio. The editorial staff of New York Magazine did not play a role in its creation.