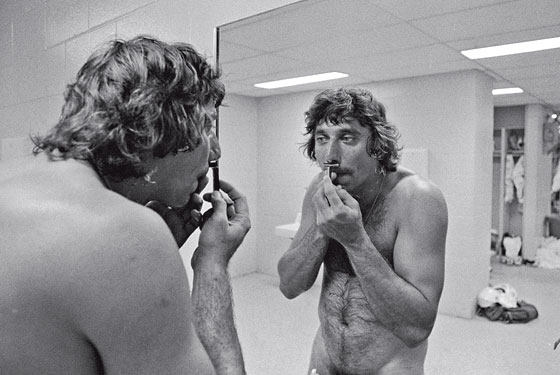 Jeremy Schaap
An ESPN reporter and anchor, Jeremy Schaap is the author of Triumph and the New York Times best seller Cinderella Man.
1. Lawrence Taylor
Alone among the athletes who starred for New York's nine major franchises in the last 40 years, Taylor changed his position and his game—he made watching your team's defense more thrilling than watching its offense.
2. Walt Frazier
The best player on the most beloved New York team of its time. The Knicks who won the 1970 and 1973 NBA titles belonged to all local fans; the Mets and Jets who won championships then were, at best, the team of only half the population.
3. Reggie Jackson
No other New York baseball player since Ruth so effortlessly combined talent, charisma, and a gift for the dramatic gesture. From 1963 to 1976, the Yankees failed to win a single world championship; in Jackson's first two seasons in the Bronx, they won two.
4. Tom Seaver
Few days in New York sports were darker than the day Seaver was traded to Cincinnati. In his first ten seasons, he was a nine-time All-Star and won three Cy Youngs and a World Series—no one else rivals him as the greatest Met.
5. Joe Namath
Don't believe the revisionists. Namath wasn't and isn't overrated. He was, rather, one of the most dynamic quarterbacks ever—whose knees just happened to grow old before he did.
6. Mark Messier
Like Jackson, Messier was at his best and won more championships elsewhere. But also like Jackson, Messier used the force of his personality—not to mention ability—to return a much-loved franchise to the apex of its sport.
7. Willis Reed
The sheer putridity of the franchise of late has only enhanced New Yorkers' fondness for the team of the seventies. Reed was a true pro who, at only six nine, ably countered giants such as Kareem Abdul-Jabbar (originally of upper Manhattan) and Wilt Chamberlain.
8. Grete Waitz
Waitz won nine New York City marathons from 1978 to 1988. If the marathon is the quintessential New York sports event, she was, far and away, its greatest champion.
9. Mike Bossy
The best player on the only team in New York in the last four decades to win four consecutive championships, Bossy scored at least 50 goals in each of his first nine seasons in the NHL. If he'd led the Rangers rather than the Islanders, he'd be ubiquitous.
10. Martin Brodeur
Suffers from playing for a franchise not headquartered at the Garden, but the numbers are indisputable: four Vezina trophies. Second all-time in wins and shutouts. Three Stanley Cups.
Chris "Mad Dog" Russo
Chris Russo headlines Sirius' 24-hour "Mad Dog Radio" sports-talk channel and hosts the channel's anchor program, "Mad Dog Unleashed," weekdays from 2 to 7 p.m.
1. Joe Namath
Super Bowl III was the probably the most significant game in the history of the NFL. It brought credibility to the merger of the NFL and AFL. And Namath was the star of that game.
2. Mark Messier
Having come here after winning five Cups in Edmonton, he had a lot of pressure on him. That 1994 Stanley Cup goes down in history.
3. Willis Reed
Captain of the Knicks. Won an MVP as a Knick. Classy guy, great center. Had so many memorable battles with the Celtics' Bill Russell. Won two titles.
4. Derek Jeter
Never made a mistake in a big spot and had a number of signature plays. When he's finished playing, I believe he'll have 3,000 hits.
5. Tom Seaver
He gave the Mets franchise credibility. He won a championship and Cy Youngs here. One of only four numbers retired by the Mets.
6. Lawrence Taylor
Greatest linebacker in the history of football. Anchored that great Giants defense. New York is all about blue-collar defense, and he was a rugged player who played injured, which is very important.
7. Darryl Strawberry
He was a tremendous player even though he underachieved. We know he could have hit more home runs and been in the Hall of Fame. Between 1984 and 1990—when the Mets owned New York—he was the lightning rod.
8. Joe Torre
Mediocre with the Mets as a player, but there's no way you cannot put him on this list. Won four titles as a Yankee and was Mr. Class. The team made the playoffs every single year he managed them.
9. Mike Piazza
Brought the Mets back to credibility. They were pretty good in '97, but didn't have a lot of juice. He had big years here, and they won a pennant. Piazza is a future Hall of Famer, and he remains a huge figure to Mets fans.
10. Mariano Rivera
Greatest relief pitcher of all time.
Mike Lupica
Mike Lupica is a longtime Daily News columnist, a contributor to ESPN's The Sports Reporters, and the author of No. 1 New York Times best sellers Travel Team and Heat.
1. Lawrence Taylor
I am a baseball guy and will always be a baseball guy. But Taylor, to my mind, is one of the two greatest football players I've ever seen (Jim Brown was the other). All you can remember from that first Super Bowl season is him coming from the outside.
2. Joe Namath
There have been three pro-football games called "the greatest game ever played." Giants vs. Colts, 1958. Giants vs. Patriots, last year. And Super Bowl III. Namath guaranteed it, maybe you heard. He was more a shooting star than a lot of guys on this list. But, man, what a star.
3. Willis Reed
If there is one moment in the last 40 years, it is Captain Reed limping out against the Lakers in Game 7. That's what sports is in the end: moments. And this is the one all others are measured against around here.
4. Tom Seaver
There have been a lot of miracles in sports over the past four decades. But in baseball, the Mets of '69, because of where they'd come from, might still be the best. And they didn't call Seaver "The Franchise" for nothing.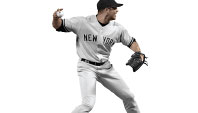 5. Mariano Rivera
For the Yankees, he is the Babe Ruth of pitchers, a monument in the outfield waiting to happen. And against the Red Sox in 2003, for three innings at the end of Game 7, he was everything he's ever been in a Yankee uniform.
6. Mark Messier
He did more than anybody to win the Rangers their first Stanley Cup since 1940. Two captains on this list, above all others: him and Willis Reed.
7. Dwight Gooden
For that one year, before the first bad things happened, he was the right-handed Koufax. You couldn't miss a start in '85, because you were sure tonight was the night he was going to throw a no-hitter or strike out twenty.
8. Walt Frazier
Pound for pound, game in and game out, even overshadowed by others sometimes (like Reed in Game 7 in '70), he was the best the Knicks ever had.
9. Phil Simms
Played the greatest single game any quarterback has played in a Super Bowl, 22 for 25 against John Elway and the Broncos. He is the best the Giants ever had at quarterback, better than Chuckin' Charlie Conerly and Y. A. Tittle. He belongs in the Hall of Fame.
10. Derek Jeter
You can't have a list like this and not have him on it. The Yankees of 1996 through 2000 were the old Knicks of baseball, and he was the face of them more than anybody. He isn't as good as DiMaggio. But he has still been their DiMaggio.
Selena Roberts
Selena Roberts, formerly of the New York Times, now writes for Sports Illustrated.
1. Joe Namath
With his Super Bowl III guarantee, with every commercial he made next to Farrah Fawcett, Namath started the celebrity cult of the quarterback. Sports haven't been the same since.
2. Willis Reed
The clip of Reed limping onto the floor in Game 7 of the 1970 NBA finals has become the most influential highlight reel in sports. If you're an athlete with an injury, that moment is how your courage is always measured.
3. Billie Jean King
Okay, the "Battle of the Sexes" was waged in Houston, but it began in Manhattan, at the Town Tennis Club, in July 1973, when Billie and Bobby Riggs announced the libber would play the lobber. As a player, King owned Flushing Meadows.
4. Mark Messier
Bald folk legend who defined what it means to be a leader of a team in Gotham. In 1994, he guaranteed victory over the Devils in Game 6 of the Eastern Conference finals, then delivered on his promise by scoring a hat trick.
5. Lawrence Taylor
With little argument, the best defensive player to ever put on an NFL uniform. His jersey is still a fixture at every Giants game. He made the Giants and, in some ways, made Bill Parcells.
6. Walt Frazier
A city icon of hoops, fashion, and lexicon. Dishin' and swishin', and, more important, stealin', Frazier led the Knicks to two titles while managing to pull off the velour fedora. In a time capsule of New York in the seventies, you'd find Clyde.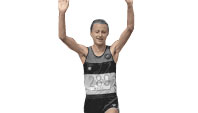 7. Grete Waitz
Her domination broke gender barriers. Before her, many believed women would come down with the vapors if they ran distances. Thanks in large part to Waitz, the women's marathon became an Olympic sport in '84.
8. Reggie Jackson
Who else has a month named after him?
9. Mariano Rivera
For more than a decade, Mo, the master of the cutter as the Yankees' closer, has changed the way opponents play the game. It's an eight-inning sport when he exits the bull pen with a Yankee lead.
10. Roger Federer
How many people have managed to make Queens a chic place to be? As a self-professed New Yorker, Federer, arguably the best tennis player of all time, owns the U.S. Open as winner of five straight titles. At the Carlyle hotel, if you know the right person, you can get the Federer suite.
Will Leitch
Will Leitch is a New York Magazine contributing editor, the founder of Deadspin.com, and the author of three books.
1. Reggie Jackson
In his first game back in the Bronx after he signed with the Angels, Yankee Stadium chanted his name. They wouldn't even do that for Jeter.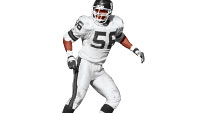 2. Lawrence Taylor
Dominating, gruesome, monstrous, awesome, and would have been even better if he weren't high so often. That he was makes him even more of a terrifying, otherworldly force of nightmares.
3. Mariano Rivera
Mariano turned late-October nights in the Bronx into a yearly ritual with just one basic, devastating pitch. The real source of the Yankees dynasty. Couldn't possibly be paid enough.
4. Patrick Ewing
Joe Namath was the one-hit wonder; Patrick Ewing was the lumbering dockworker, providing consistent excellence without the flash or, ultimately, and sadly, the title.
5. John McEnroe
The Times once said he was "the worst advertisement for our system of values since Al Capone." Like that's a bad thing.
6. Joe Namath
Not the reason the Jets won Super Bowl III—Namath didn't even throw a pass in the fourth quarter—but who cares or remembers that anymore? The perfect New York superstar at the perfect New York time.
7. Dwight Gooden
Hard to separate him from Darryl Strawberry; they were the only two people who could make you forget anyone played baseball in the Bronx. That he threw his no-hitter as a Yankee seems like a sin against the baseball gods.
8. Mike Tyson
Forget everything that happened after 1989. For five years, the baddest man on the planet was a Brooklynite, and I still can't beat him on Nintendo.
9. Derek Jeter
Can't play defense and was probably never the best player on his team. But so what if anywhere else he's a mere All-Star instead of a legend? No one said life was fair.
10. Pelé
When he entered Studio 54, the place actually went quiet with awe.