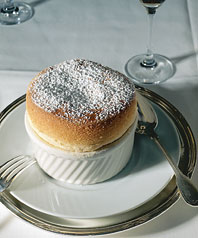 Light as air and rich as Rockefeller, the dessert soufflé is the ne plus ultra of culinary sophistication. So ethereal are La Grenouille's signature confections, they float, practically of their own volition, down a flight of stairs and onto the crisp-linened tables of Manhattan's high society. But you need not be of the ruling class to partake. In fact, your next dinner party can be aided considerably by the encouraging likes of Julia Child, who includes several soufflé recipes in The French Chef, or by the new Time-Life French provincial cookbook (even if Craig Claiborne has been carping that the cover photo isn't a soufflé—quelle scandale!—but a meringue). Here, the real thing, from La Grenouille's Charles Masson himself.
La Grenouille's Grand Marnier Soufflé
For the pastry cream:
1/2 vanilla bean, split
1 pint whole milk
113 grams granulated sugar
6 medium egg yolks (reserve and refrigerate whites overnight)
34 grams custard powder or cornstarch
33 grams all-purpose flour
13 grams sweet butter
For the soufflé:
Unsalted butter and sugar to coat ramekin
140 grams pastry cream (one No. 8 ice-cream scoop)
30 grams Grand Marnier
50 grams egg whites
10 grams granulated sugar
Prepare the pastry cream a day ahead (it makes 6 servings, and will keep refrigerated for 3 days). Combine vanilla and milk in a medium pan and bring to a boil. Turn heat to low. Cream the sugar and eggs in large bowl. Add powder and flour, and mix until smooth.
Pour about a ladle of the hot milk into the flour mixture, and stir to dilute everything, then pour back into the milk and whisk. Bring back to a boil while whisking quickly. When mixture reaches a boil, turn off flame and add butter.
Beat mixture with a wire whisk or an electric mixer until pastry cream has cooled to room temperature. Store in refrigerator with plastic wrap applied directly to surface.
To make soufflé: Preheat oven to 400. Brush ramekin with butter, fill halfway with sugar. Spin to coat well, then discard remaining sugar.
Heat pastry cream in a double boiler over high heat, adding Grand Marnier when cream is warm. Whisk the egg whites and sugar together by hand or with mixer until soft peaks form. Fold the whites into the pastry-cream mixture, one half at a time.
Spoon into a soufflé ramekin (approximately 5 inches wide and 2 inches deep), and tap ramekin on counter to settle. Bake for about 8 minutes.
Remove with large spatula or oven mitts, and dust with confectioners' sugar.