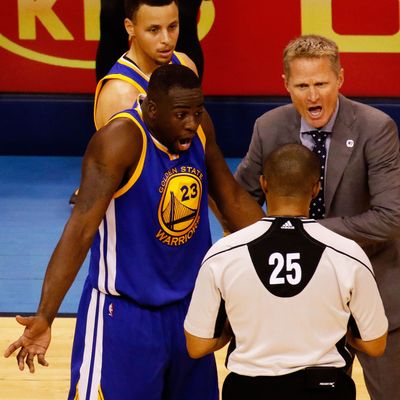 Photo: J Pat Carter/Getty Images
This weekend's NBA Conference Finals games were both duds, with two blowouts that didn't stay competitive for very long. By today, all anyone remembers from the games are a shameful flop and a brutal kick to the dick. Let's revisit them, along with some other sporting-world spectacles you missed while at the flea market.
With six minutes left in the first half of Sunday night's Western Conference Finals game and the Thunder up eight on the Warriors, Draymond Green delivered a ferocious nut-shot to Steven Adams that pretty much sealed the game. After Green's kick, the Thunder went on a 24–7 run, ending the half with a 25-point lead. Asked after the game if the kick was intentional, Green, who kneed Adams in the same spot a few day prior, said, "I'm sure he wants to have kids someday. I'm not trying to end that on the basketball court."

LeBron James had to be happy to see Adams's near-castration, if only because it would take some of the attention away from this ridiculous flop. Flopping is always embarrassing, but this took things to a new low. The elbow LeBron pretended to catch came from his own teammate, and as he should know by now, refs don't call technicals when teammates hit you.
Racing fans hate it when people who know nothing about their favorite sport only pay attention during crazy crashes. Sorry, racing fans.
This is cute. Before Saturday's game between NYCFC and the New York Red Bulls, a clash that's been dubbed the Hudson Derby, fans pretended to be European soccer hooligans and got crazy outside of Yankee Stadium. Maybe Americans are embracing soccer after all.