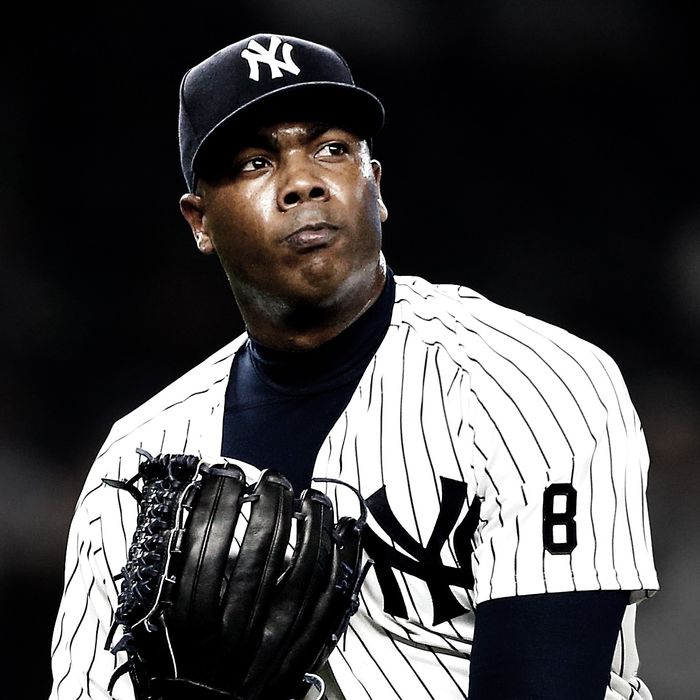 Photo: Jim McIsaac/Jim McIsaac
When Yankees closer Aroldis Chapman made his debut in pinstripes a few weeks back, the 28-year-old left-hander was greeted by most of the team's fans like they were a bunch of slobbering dogs welcoming their master home from deployment. "It was incredible," he would later say of the applause.
It was also pretty awkward for anyone who cared to reflect on why Chapman missed the first month of the season. In October, Chapman's girlfriend called the police while hiding in the bushes of his Miami home. She said he choked her, which he denies, and then went into his garage and fired a handgun eight times, which he admits. The incident led the Dodgers to back away from a deal to acquire Chapman from the Reds, and the Yankees quickly stepped in.
This is not exactly unusual across sports these days. Athletes with moral failings are regularly welcomed by new teams that are willing to accept trouble off the field if it comes with talent on it. Former Cowboys defensive end Greg Hardy and Pacers guard Ty Lawson are two of the most recent examples. But the Yankees' newest acquisition did not come without a cost. Though Chapman was never arrested and charges were never filed, Major League Baseball still suspended him for 30 games, an option available to commissioner Rob Manfred under a new personal-conduct policy adopted last summer. Covering domestic violence, child abuse, and sexual assault, the policy gives the commissioner sweeping power to ban a player for as long as he sees fit, regardless of what happens in criminal court.
This power is increasingly common in all of the major sports, and in the NFL especially, fans have bristled — even revolted — over the expanded disciplinary powers of the commissioner, able to pass down semi-arbitrary judgments on everything from Tom Brady's deflated footballs to Ray Rice's unconscious fiancée.
But even given the wild inconsistency and borderline incompetence with which he applies it, Roger Goodell's mean-daddy style of punitive moralism still represents a kind of progress. The all-powerful commissioner may not be the ideal arbiter of right and wrong, but the approach is certainly preferable to the look-the-other-way policy of the past. And it's far better than leaving it up to fans to separate the good guy from the bad. It turns out even the most progressive-minded sports fans can't be trusted to shame bad behavior from players on their favorite teams. Which means we should probably be thankful (and embarrassed) that guys like Goodell and Manfred are doing it for us.
It's terrible that we won't let something like domestic assault interrupt our fandom in any meaningful way, but the lessons of Kobe Bryant and Ben Roethlisberger are clear: The bone-deep ties we feel to our teams blinds even the most enlightened fans to behaviors we otherwise would never tolerate. We don't think of our favorite teams as multi-million-, or sometimes billion-, dollar corporations trying to squeeze a lifetime of spending out of every baby born into fandom. We think of them as fraternities — draping ourselves in their colors, elated by their triumphs, tormented by their failures.
For some fans, that allows for an easy acceptance of anyone wearing the right colors, whatever their extracurricular crimes. For others, it takes time. Conflicted Yankees fans, those who refused to rise for Chapman's debut, will likely come around. It's just not practical to cheer for a team and not celebrate the accomplishments of its closer. So they'll wrestle with it, and in time they'll start clapping, seduced by each triple-digit fastball lighting up the radar gun. And the same process will play out the next time a good player on another team turns out to be a bad guy.
Of course, there's always another option. We could take a principled stand and simply transfer our allegiance to another team — an outfit that doesn't willingly employ someone we think should be in jail. Some Cowboys fans did just that during last year's Greg Hardy debacle.
Plainly, this would be the right thing to do. As we've seen time and again, neither owners nor players show even a fraction of the loyalty that fans do. But that's a step most wouldn't take — by the time we're old enough to care about what players do off the field, we're already too invested in an organization that, due mostly to an accident of geography, we're fated to support. Which is where the all-powerful commissioner comes in, ensuring, at least in theory, that players who do wrong face some sort of punishment. And when the bad guys on a fan's favorite teams have suffered some consequence, it's easier to cheer without feeling like you're rooting for domestic violence, or rape, or child abuse.