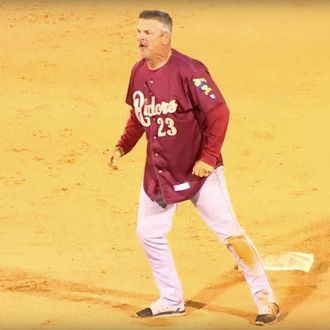 Joe Mikulik, manager of the AA Frisco RoughRiders, never had much of a playing career. And as the skipper of four different teams over 17 years, he has amassed a pretty pedestrian .517 winning percentage. That might explain why he's never managed above AA ball.
But thanks to his talent as a base-stealing, dirt-kicking, tantrum-throwing nutcase, he's probably better known than some dudes in the big leagues. His latest triumph came Tuesday night.
This is at least the fourth time in Mikulik's managerial career that he's gotten national attention for his unhinged behavior on the field. Way back in 2006, following his first appearance on SportsCenter for acting like a toddler in need of a nap, Mikulik told a reporter that he was simply sticking up for his players when he did this:
That's what we're always told when a manager interrupts a baseball game to go nose-to-nose with an umpire. He's making sure his guys know he'll fight for them and, in the process, giving them a little motivation to keep fighting themselves. Usually, when the outburst doesn't go much further than a string of obscenities and a tossed hat, that's easy enough to believe.
But Mikulik takes it to a different level. He's a showman, and he knows it. In that same 2006 interview, he said, "I've given the fans and the players all I could ever give them." He's not just out there motivating the players — he's entertaining the fans. Remember, Mikulik has spent his entire career as a manager in the minor leagues, where a bunch of anonymous players are rarely enough to fill a stadium. Mikulik's antics, just like the dogs who catch Frisbees between innings, are just another part of the show.