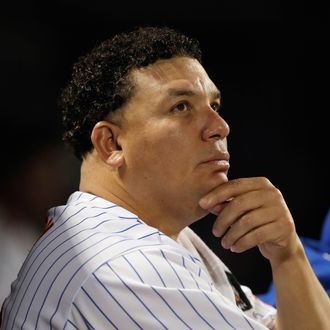 Photo: Al Bello/Getty Images
Mets pitcher Bartolo Colón is a hero in Queens. At age 43, the lovable oaf is still an effective starter whose beer gut makes his occasional flashes of athletic brilliance a total joy. Other men who also look five months pregnant have long drawn inspiration from his prowess.
A story in today's New York Post threatens to blow up Colón's nice-guy image though. According to a New York woman who has sued Colón for child support, he is the father of her two children, born out of wedlock, and has failed to support them financially, despite the $7.25 million he's making this year.
We'll resist the urge to moralize about Colón's being a deadbeat dad to his illegitimate kids while supporting the four he has with his wife, which at this point is just an accusation, and instead turn to the reason why the story wound up in the tabloids in the first place. Although the case was sealed by a judge to protect the parties' anonymity, Colón initially opted to serve as his own lawyer, which made his name public. True, lawyers are expensive, and nobody really wants to fork over hundreds of dollars an hour for their counsel. But when you've gone to the lengths Colón has to develop a reputation as a merry goon and charitable hero in your destitute hometown, you might want to allocate a fraction of the $95 million you've made over the course of your career to professional representation in sealed family-court cases. Also, maybe don't be a deadbeat dad in the first place.