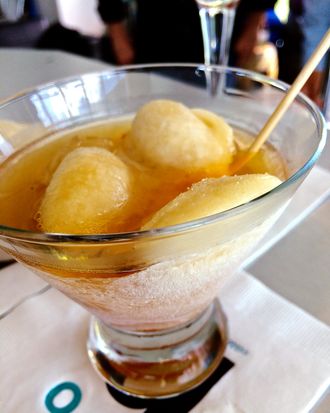 Bourbon on bourbon.
Photo: Courtesy of Beyond Zero
The biggest downside of inventing a machine that can turn hard liquor into hard ice, is that when a writer asks you what happens if some idiot eats the stuff, you've got to eat the stuff. For Jason Sherman, the man behind the Beyond Zero "turbo ice machine," that means putting a minus-60-degree piece of frozen bourbon in your mouth to prove that while it might sting a bit, it's not going to do real damage.
"It's similar to biting into a microwave pizza that's a little too hot," Sherman told me last week at Charr'd, a bourbon bar on the ground floor of a suburban Louisville Marriott. In early May, as the hotel filled with horse-racing fans in elaborate headgear, Charr'd became the first bar in the world to sell frozen booze cubes from Sherman's machine. As of this month, any other bar with a spare $7,999 will be able to do so as well.
That may sound steep for what looks like Tony Stark's Keurig, but Beyond Zero could be the biggest thing in alcohol since the tiny umbrella. Unlike frozen water, when booze cubes melt they don't dilute a drink; and in fact, they make it colder, because they freeze at temperatures well below 32 degrees, when water turns to ice. The benefit: "It really smooths a drink out," Sherman says. "It removes the ethanol heat." High-proof liquors go down easier at low temperatures, resulting in beverages that taste as God intended, without all the burning. If you ever wondered why your uncle keeps his jug of Popov in the freezer, now you know.
I tested this theory at Charr'd with a couple sips of 113-proof Four Roses single-barrel bourbon. The first was room temperature, and for a light drinker like me, about as pleasant as chewing lit matches. After taking a minute for the heat to subside, I sipped from a glass of bourbon that, with the help of four bourbon cubes, was chilling at minus 20. An instant read thermometer told me so. Hoping that this would change everything I thought I knew about the throat-burning properties of hard liquor, I raised the glass to my lips … the verdict? To a non-connoisseur, it tasted very much like cold bourbon.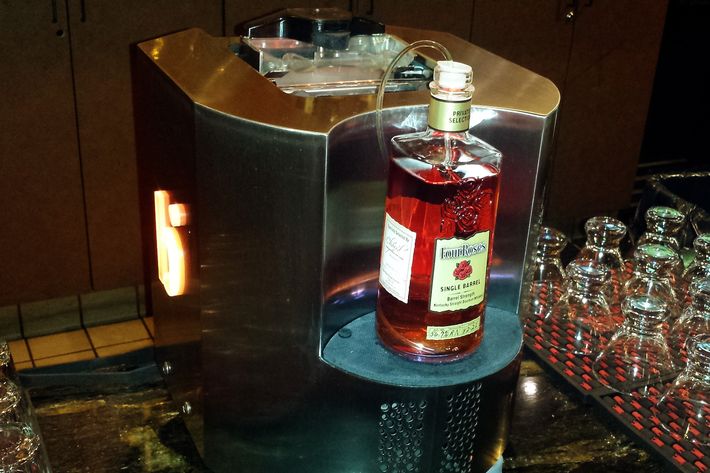 Beyond Zero began as a liquid-nitrogen ice-cream machine that Sherman built as a young tinkerer. Similar devices would go on to fuel a nationwide trend, but Sherman didn't discover the gadget's true purpose until he filled it with Patrón. "I didn't like tequila, but I could do this," he says. "That's when it hit me: We should replace ice."
Sherman spent years working on prototypes that used liquid nitrogen, but he found it too volatile and too cold. That's when he began an informal education in thermodynamics and built a machine that did the job mechanically. "I really dove in and just did a tremendous amount of research online on how cold works," says Sherman, who has an undergraduate degree in finance and a law degree from Nova Southeastern University.
When he had a working prototype, Sherman began showing it to anyone who would look. He piled up 90,000 miles driving around the country, and after chance meetings and a few false starts, found himself in Kentucky, which is in the midst of a bourbon boom. Sherman took on an equity partner in the manufacturer that helped turn Colonel Sanders into a household name, and nearly a decade after his first tequila cubes, he finally had a finished machine.
Beyond Zero's underlying technology is patent-pending and a trade secret, so Sherman was somewhat cagey about how the device works, but here's the gist: The machine achieves temperatures as low as minus-112 in order to freeze booze, which can either be poured into the top or sucked in from a bottle. It can make four quarter-ounce cubes at a time, with speeds that vary depending on the alcohol content of what's being frozen. It'll spit out wine cubes in three minutes. Something like Four Roses takes a good bit longer, maybe 12 minutes or so. That's why Sherman is planning to sell a super-cold chiller with the ice-maker, allowing bars to stay stocked with highly potent booze cubes, which can be served with the same liquor poured over top — or in a mixer or another liquor, for a time-released mixed drink that gets stronger, rather than weaker, as you sip it.
Eventually, he hopes to bring Beyond Zero to the countertops of wealthy tipplers around the world. There's also talk of getting liquor stores to sell trays preloaded with alcohol, yet another entrant into the ever-growing pod economy. Until then, Beyond Zero will be confined to places like Charr'd, where you can get a glass of Four Roses at an icy 20 below. That's a hell of a lot colder than it would be on the rocks, and there's no threat of melting ice turning this high-end bourbon into muddy water. In fact, when you've got a drink "in the rocks," as Sherman calls those made with his cubes, you want the ice to melt. That just means more booze.