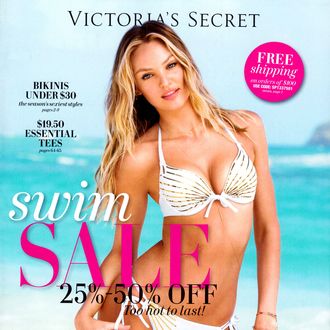 The Victoria's Secret catalogue is no more, according to the lingerie retailer's parent company, L Brands, which is eager to save the $150 million a year it spends on printing. As sad as it is, the move is no surprise. The glossy book of models has long been stripped of all utility by online shopping and on-demand porn.
The decision to send the catalogue to the big recycling plant in the sky, finally confirmed after weeks of speculation, was made easier by tests last year that revealed VS shoppers aren't even using it anymore. Welcome to the club. Leering men and boys, once titillated by the idea of a free catalogue full of ladies in their bras, moved on years ago.
Founded in 1977, the Victoria's Secret catalogue harks back to a simpler time, when the only way to get your VS fix was by thumbing through the catalogue. Now everything the brand sells is online. Its "Angels," some of the biggest models in the world, are everywhere, especially Instagram, where every detail of their lives is on display. For example, Alessandra Ambrosio's grandmother celebrated a birthday yesterday. The catalogue, it's impossible to deny, has lost its purpose.
Middle-age men may grieve the book's loss, but they'll get over it. Sometimes even angels fall.