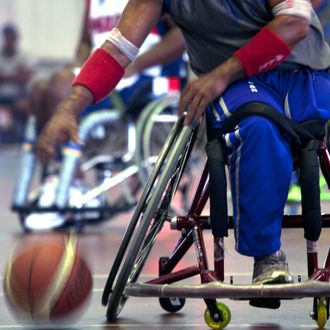 An IWBF with no brawling.
Photo: Nicolas Garcia/AFP/Getty Images/2012 AFP
If being a die-hard fan of an American sports team sometimes feels like cheering for a faceless corporation, that's because it kind of is. The only difference between walking around town with a hat bearing a Mets logo versus one bearing that of a yogurt company is the feeling of camaraderie you have with other people promoting the Queens-based operation.
It's kind of depressing, the willingness to serve as living billboards due mostly to the accident of our birthplace. But then a video like this comes along and serves as a reminder of how sports fans behave when their allegiances run much deeper.
Those are fans of two Turkish clubs beating the hell out of each other at a wheelchair basketball game in Germany. Galatasaray and Besiktas are both based in Istanbul and primarily known for the soccer teams, but like many European sports clubs, they field teams in a bunch of other sports, too. Their fans have a long and ugly rivalry that stems, in part, from class differences. Galatasaray began as the club of the well-heeled aristocracy, and Besiktas the club for working men. Those lines have softened of late, but the hatred between supporters hasn't.
The violence has gotten so bad that fans of the two clubs, as well as supporters of Fenerbahce, Istanbul's other major club, are regularly banned from attending soccer games at each other's home fields. The devotion to these clubs runs much deeper than soccer, too, which is why the ban extends to basketball games, both men's and women's, and volleyball.
It does not, however, include wheelchair basketball, or games that are played in other countries. And so while wheelchair basketball is often viewed as a testament to the human spirit, played by competitors who have suffered severe injuries and have overcome great odds on the way to the court, the violence at the IWBF Eurocup, held in Saxony, Germany, was pretty predictable. In the end, the melee sent seven fans to the hospital. Six of them were released. Not bad, really, for a brawl that saw 60 people going at it, some of them swinging knives and baseball bats.
It's impossible to imagine this happening in America for a lot of reasons, but the main one is that American sports fans tend not to really hate their rivals. Sure, they might talk some trash now and again, but they don't want to stab each other — at least for the most part. That's the difference between supporting a team because you dad does and supporting a club as a matter of religious, ethnic, or class identity. It's enough to make a tenuous connection to a for-profit company seem oddly civilized. Go Oikos!